Posted on by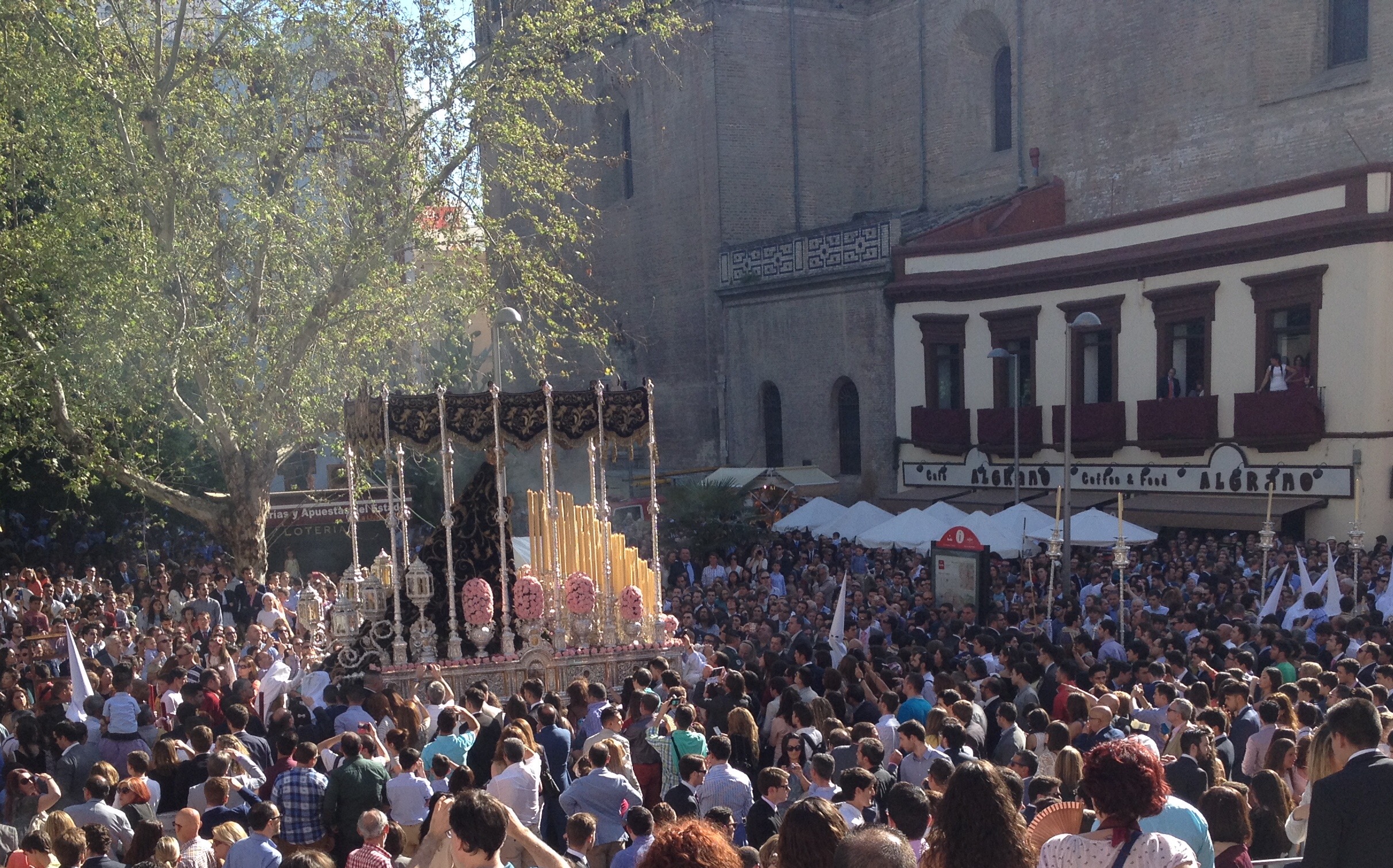 (Updated 8-1-2017)
At the end of our one-month-for-fluency stay in Seville (March 2015), we experienced the two initial days of Sevilla's amazing family festival, the Semana Santa (Holy Week).

The entire city seemed to participate. Whole families, from babies to grandparents, and many groups of young and old came out into the street, especially in the late afternoon and evenings. This year drew especially large crowds, as spring was in full bloom and the weather was sunny and warm.
The Preparations
We already noticed in early March that viewing stands were being erected behind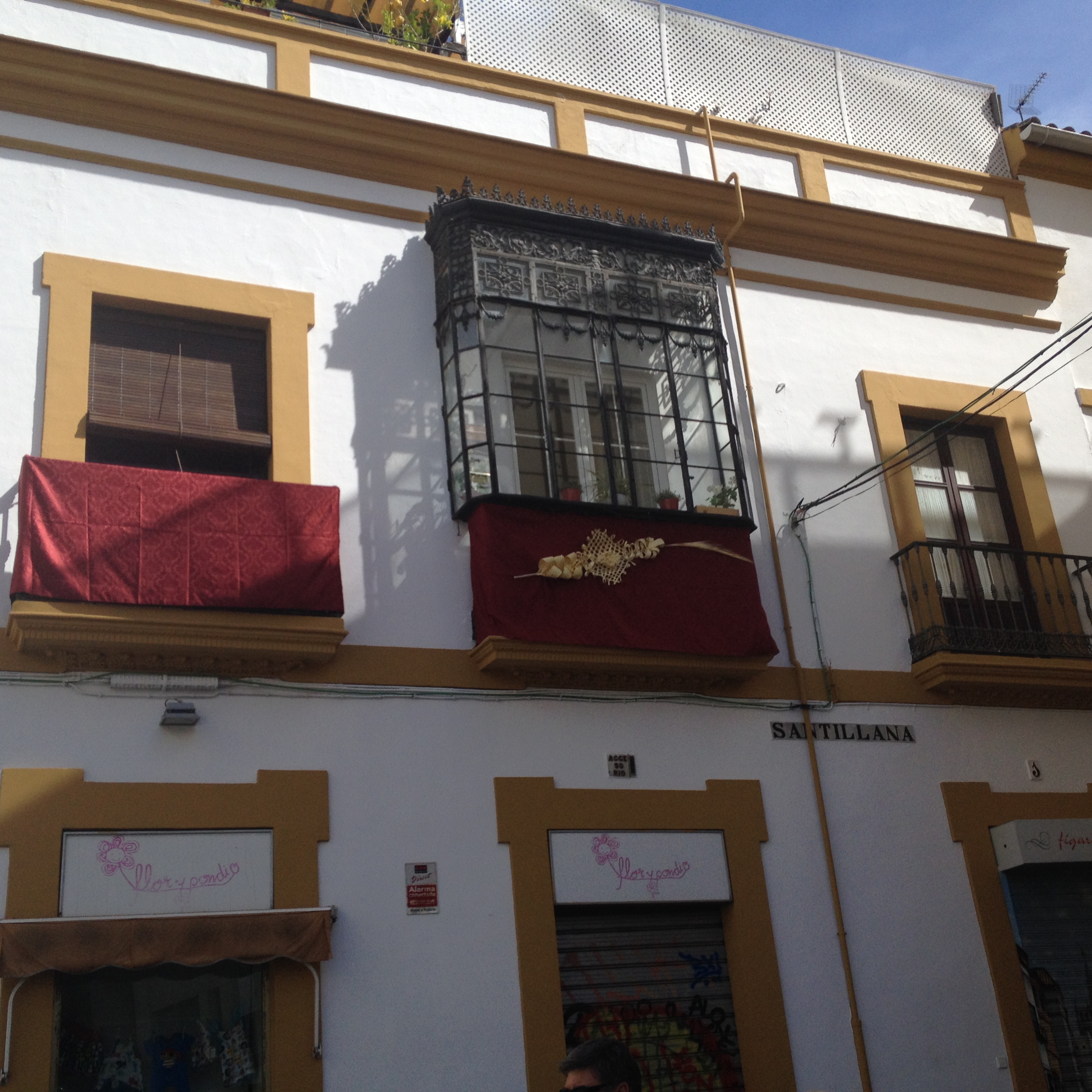 the Ayuntamiento (City Hall), on the route of all the processions.

From days before Semana Santa, Sevilla was transformed: Repairs to buildings and roads were completed; balconies were draped with festive cloths; mobile restrooms were erected and hooked up to the city sewer system (no "porta potties"!); barriers and chairs were placed at major viewing routes; the inner "casco antiguo" (old town) was closed to traffic in the afternoons, taxis were banned, bus routes were changed, and a large part of the old town became a pedestrian zone.
Daily program booklets came with the local newspaper El Diario de Sevilla and showed the routes and times of the various processions. The article on Culture Trip can give you an idea of some of the details.
The Brotherhoods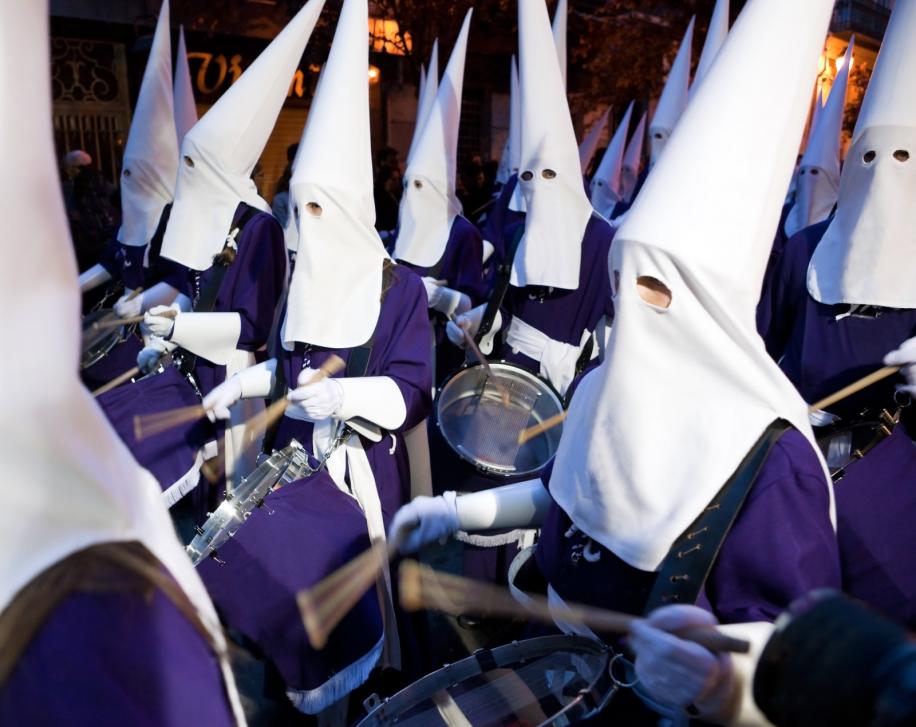 During Semana Santa, there were seven to ten daily processions, organized by the different "cofradías" or "hermandades" (religious brotherhoods), social organizations that play a crucial role in putting on the processions.
Sevilla alone has 60 different "cofradías," some of which are associated with trades, as can be seen in their name, for example, "La Cena" (dinner), "La Hiniesta" (broom), "La Borriquita" (little donkey), others have a spiritual names such as "La Paz" (peace), "El Amor" (love), "La Amargura" (bitterness).
Still others carry the names of various saints. Some of the "cofradías" trace their origin back to the 16th century; they often have several thousand members, who participate in the processions. You can find out more about the brotherhoods in the above link.
The Processions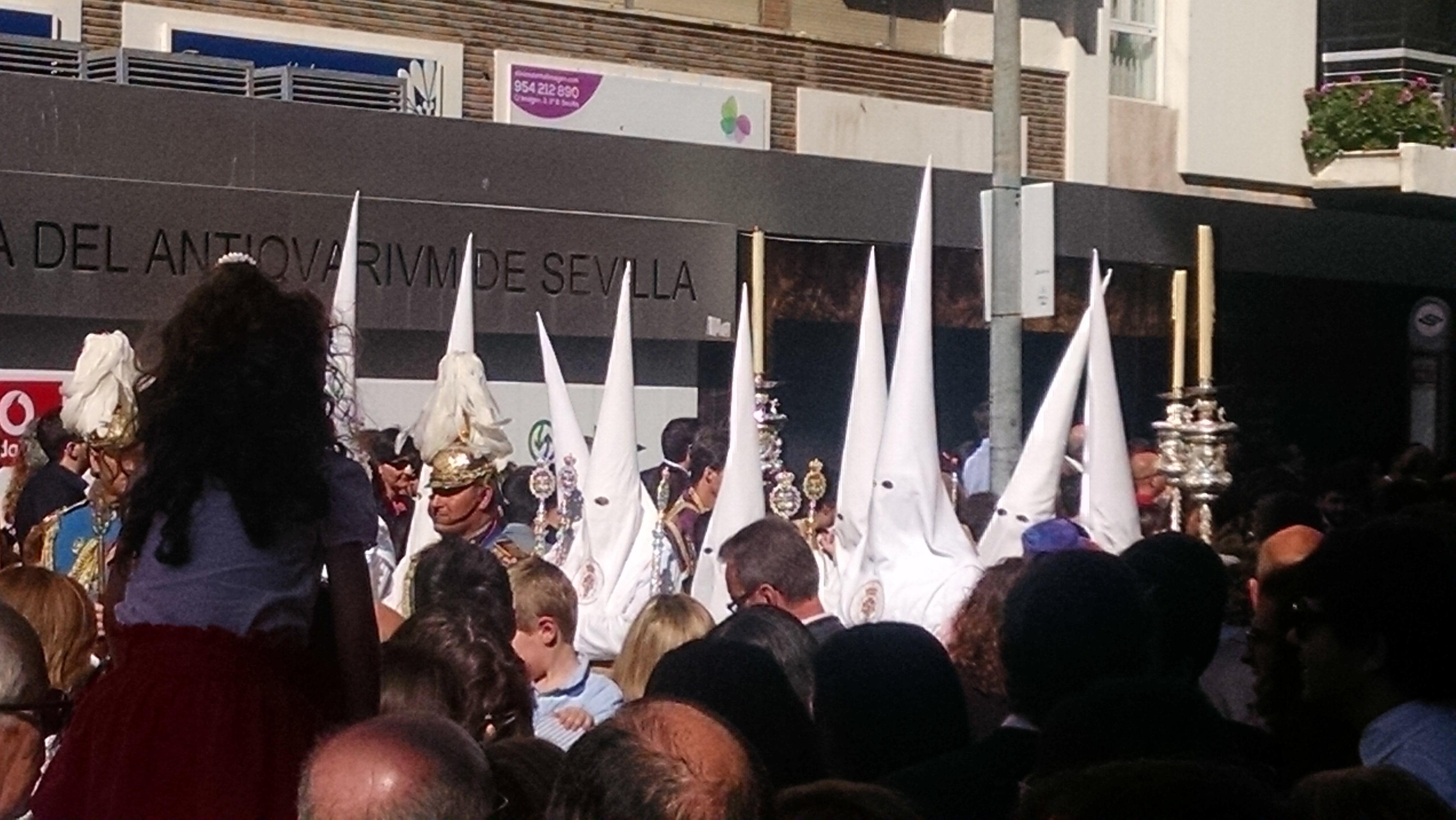 These solemn processions have large floats bearing Jesus and Mary statues, are decorated with candles and flowers, and are accompanied by spirited music and hundreds of "Nazarenos" (penitents) wearing pointy hoods and cloaks in various color combinations.

All that makes for an unusual, elaborate, unforgettable spectacle. Especially the "Nazarenos" dressed in all white may create some unpleasant (KKK) associations for older, especially African Americans.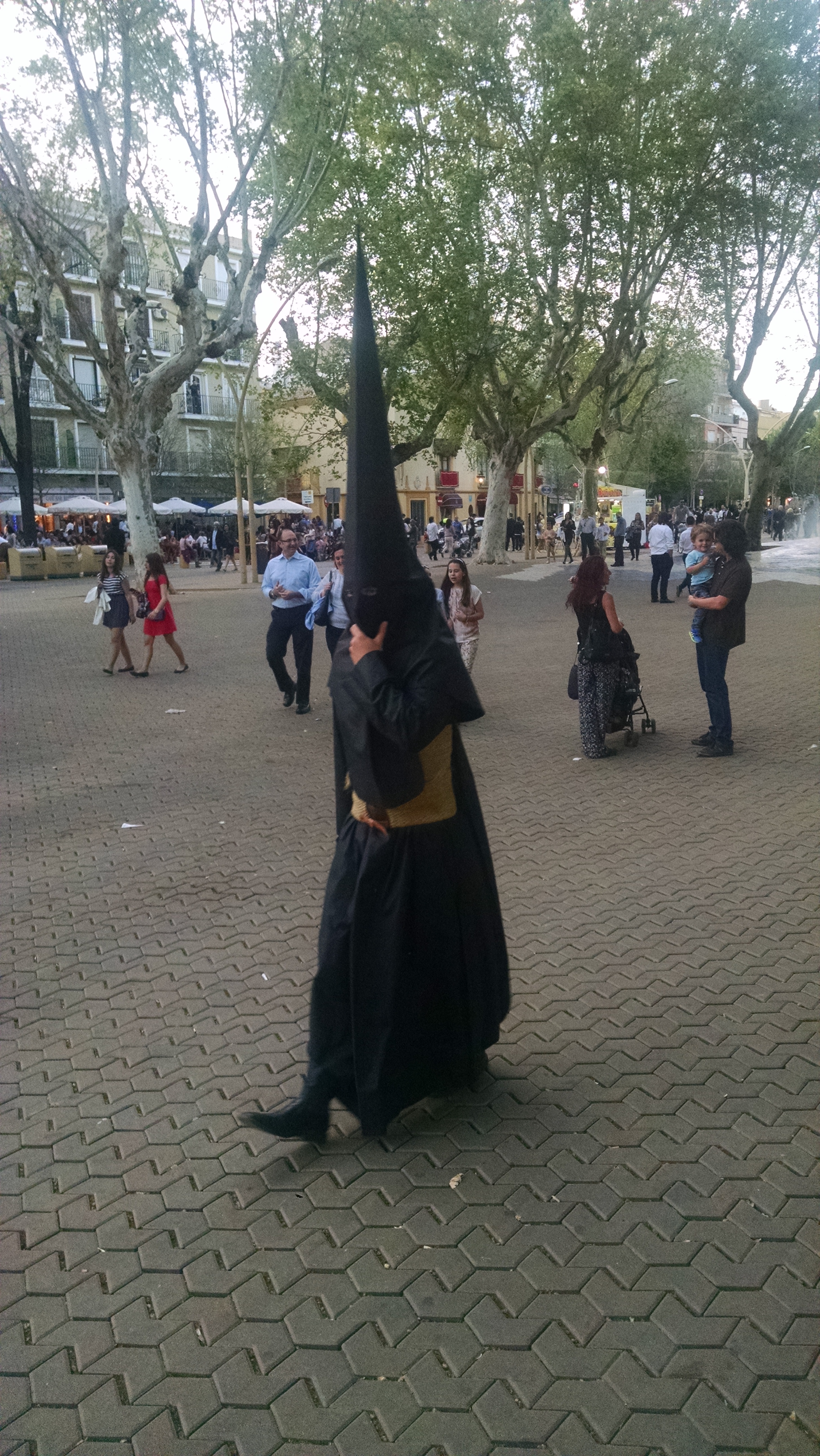 For locals, however, the hooded figures that could be seen walking through the old town to their procession starts, were just part of the Semana Santa celebrations, which began officially on Palm Sunday.

Each of the processions moved along a specific route and took many hours to complete it. Several of them started at 3 PM and ended at 2:00 or 3:00 AM in the morning.
We could see that many of the "Nazarenos" following the processions were teenagers or even younger, and these were accompanied by parents or other family members who provided them with water or a sandwich from time to time.
In Seville you can't see the men who carry the ornate and quite heavy floats. They are underneath each float and and only come out occasionally for a well-deserved drink when the procession comes to a to a halt.
The Atmosphere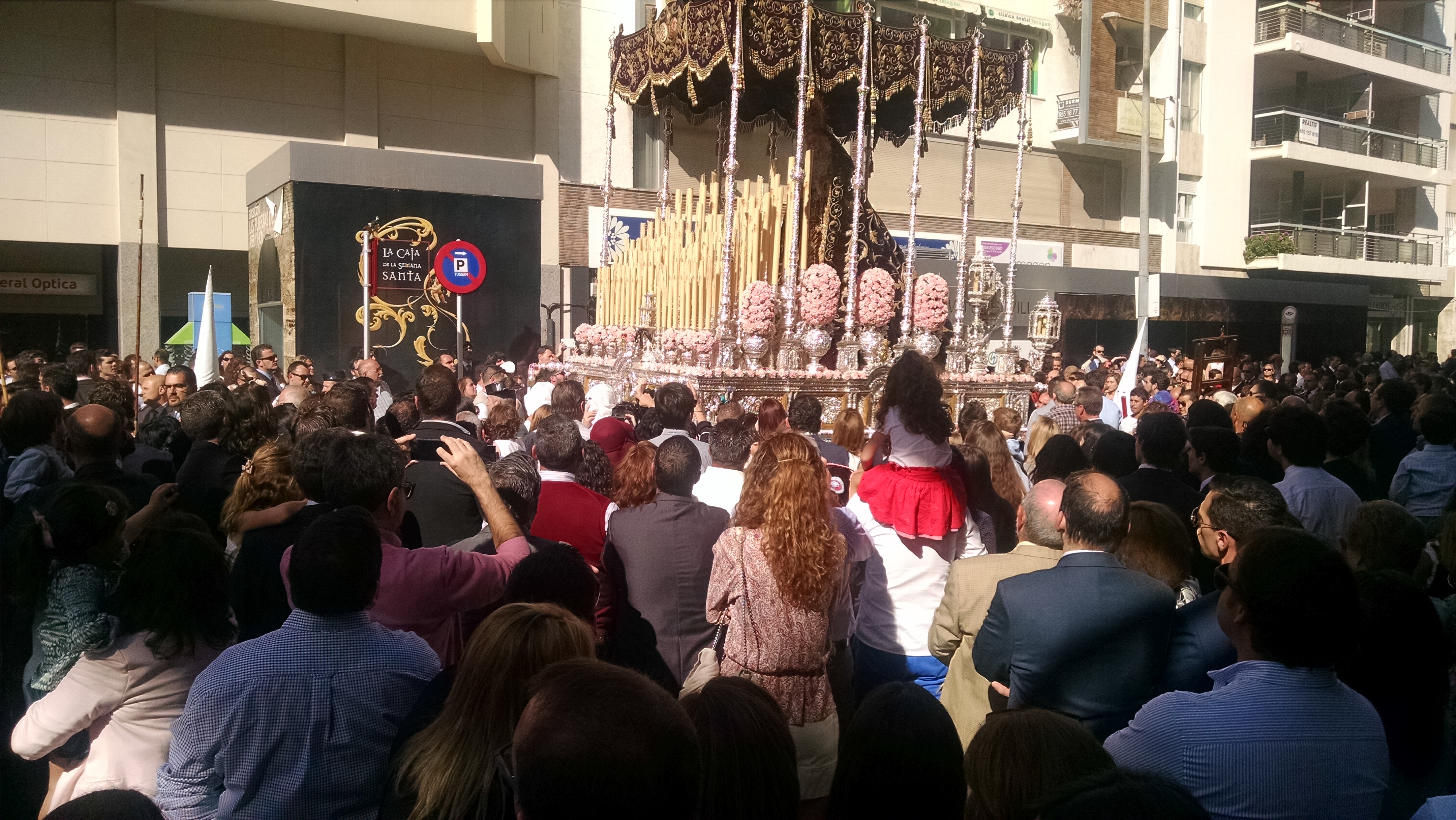 The atmosphere in the city during those days was electric, excited, but the crowds were surprisingly calm and measured.

Several times, as we walked from one procession to another, we were caught in a stream of people who were doing the same. In spite of our initial anxiety at being in such a densely-packed and moving crowd, we witnessed no out-of-control behavior, no unpleasant incidents, no shouting.

There were lots of small and older children present and we thought that surely some of them would get lost in the crowd.
Later we heard of only one case of a child that had gotten lost, but was found again after a few hours.

People were surprisingly patient, courteous, laid back. And, even though there was a lot of waiting time, no one seemed to get upset about this. People socialized, chatted, kids played hide and go seek. It was truly a lively, inclusive folk festival that added powerful memories to those of our stay.
Bio: Ulrike & Peter Rettig are co-founders of Gamesforlanguage.com. They are lifelong language learners, growing up in several European countries before moving to Canada and the United States. You can follow them on Facebook, Twitter, and Instagram.