Posted on by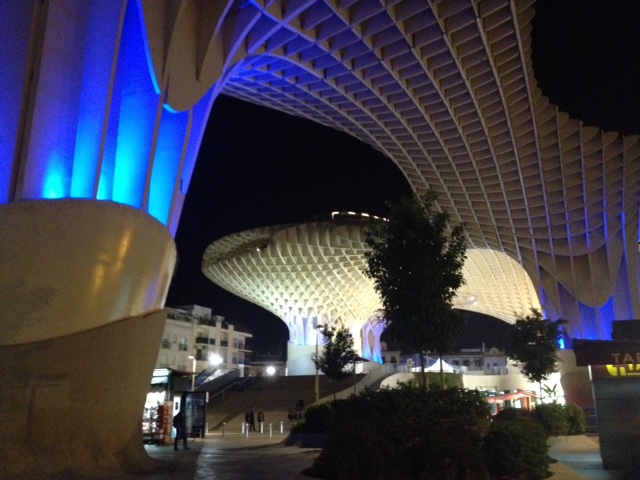 We are now in Seville, Spain, staying a stone's throw from Plaza de la Encarnación and right in the middle of Seville's extensive "casco antiguo" (historical town).

Three years ago, after staying in Barcelona for a month, (see: In Barcelona Learning "Spanish" is not Enough), we also took a trip though southern Spain, and stayed three days Seville. We immediately took a special liking to this lively and charming city.

We had fun retracing the steps of David, our young Gamesforlanguage Spanish 1 traveler, whose visit to Barcelona, Granada, Seville and Madrid provides the basic narrative for our Spanish 1 course. This year, with the plan to again improve our Spanish, we chose Seville as our one-month home.
Discovering Seville
When staying in a new city, the first few days are always a time to get one's bearings. In Seville, it's easy to keep getting lost in the narrow streets of the old city. They seem to run crisscross in no predictable direction, and the height of the buildings prevent you from orienting yourself with the sun's position.

But Seville's "casco antiguo" is a very walkable part of the 700,000+ inhabitants city. Once you've learned the major street patterns, you can easily reach all historical sights on foot.
Las Setas
The Metropol Parasol, dominates the plaza and surprised us during our first evening (see picture above) as we explored the neighborhood. Suddenly we found ourselves under what locals in Seville call "las setas" (the mushrooms).

It is a giant structure, designed by the German architect Jürgen Mayer and constructed of wood panels and steel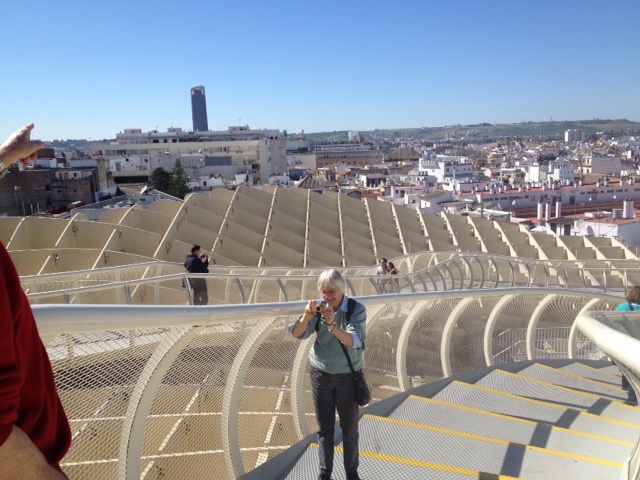 and built between 2005 and 2011 to replace a defunct and derelict space. We should note that this structure has created much controversy, both due to its form, as well as due its construction cost and cost overruns.

We found the area of the Metropol Parasol quite appealing, with the giant Plaza full of life, outside seating areas for cafés and restaurants. A fruit, vegetable, fish and meat market is easily accessible on the street level, and, from a viewing platform on top, you have a wonderful view of the city, including La Giralda and now the newest item of controversy, the "Pelli Tower".
The Pelli Tower
The 580 foot, 43 story high tower, designed by Cesar Pelli's (former dean of Yale University's School of Architecture) New Haven firm, is currently being completed on the site of the 1992 Expo across the Guadalquivir river from Seville's historic city center.

As you can see on the picture above from the top of "las setas", the Pelli Tower in the back ground not only exceeds in height any of Seville's buildings, but is even nearly twice as high as La Giralda. Seville had to fear for its status as a UNESCO World Heritage site in 2012. But after assuring the UNESCO Commission "that there will be no more buildings of such great height in the area", Seville was not put the UNESCO "danger list".
La Giralda and Alcázar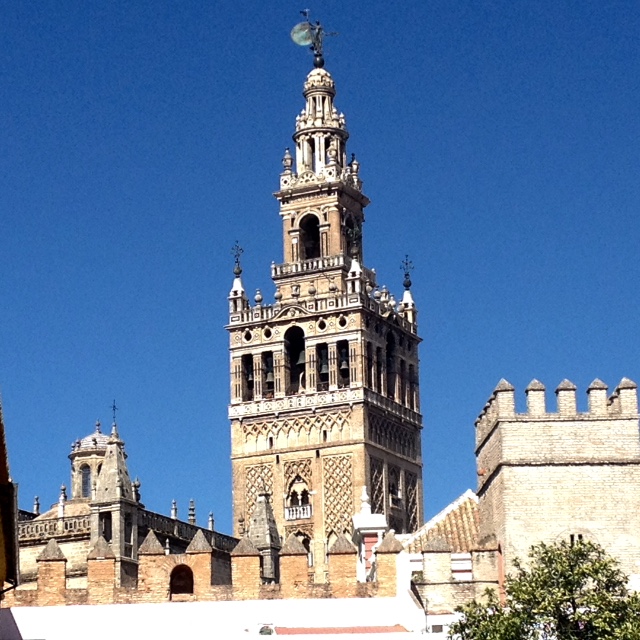 A cousin came to stay with us for the weekend, so we started out with visiting again La Giralda (the Almohad tower of the cathedral, picture left) and the Alcázar (a Mudéjar palace, picture below, right).

We marveled not only at the wonderful architecture and mosaics, but also at the many orange trees, full with oranges, in the courtyards and gardens.

Coming from New England and escaping the snow and cold, the weather here in Seville is a special treat during March. Sunny days with temperatures in the mid to high seventies encourage us to have lunch outside. The nights cool down into the high forties, providing perfect sleeping conditions.
Tre or Tres?
On Sunday, the three of us ventured to Triana, a neighborhood with a traditional tile and pottery industry as well as a lively flamenco culture.

Sitting in a sidewalk restaurant on the Calle San Jacinto, we experienced a somewhat funny exchange with the waiter, which made us pay special attention to the local dialect and pronunciations.

I ordered three beers, and - being under pressure - I let my Italian interfere. I said: "Tre cervezas, por favor." The waiter gave me a quizzical look and asked in turn "Un? ... Dos? ... Tres?" and when I confirmed: "Tres, por favor" he nodded and said: "Tre, vale.

We found this amusing because I had mistakenly said "tre," very much in the way that he then acknowledged my order. He clearly had not expected a "Seville dialect" from me!
Dialect of Seville
In Seville, final consonants, or consonants at the end of syllables are often dropped. So, we mostly hear "gracia" (instead of "gracias" [thanks]) and "die" (instead of "diez" [ten]). We've also been noticing - in our frequent queries for directions - that Sevillians say "i-quierda" for "left" (instead of izquierda).

A closer, more academic look at the dialects of southern Spain provides a much more complicated picture, of course. During our stay, we were happy to soak up the language as it happened to us and to speak as much Spanish as we could.

At the end of our stay, we experienced a few days of the "Semana Santa", the week preceding Easter. Here are our Impressions of Semana Santa in Seville, Spain.

In one of our next blog posts, you can read about the Seville dialect: Language Learning and the Seville Dialect.
Bio: Ulrike & Peter Rettig are co-founders of Gamesforlanguage.com. They are lifelong language learners, growing up in several European countries before moving to Canada and the United States.
You can follow them on Facebook, Twitter, and Instagram.