Posted on by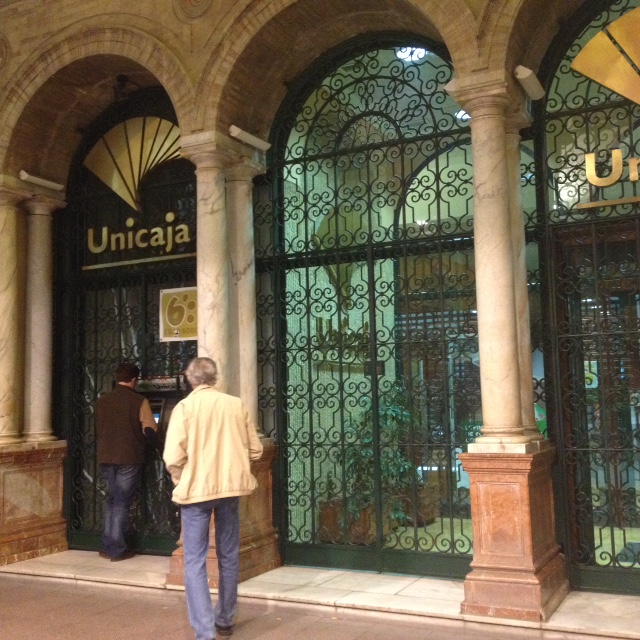 When it comes to foreign currency, traveling has become so much easier: Instead of worrying about how much of the foreign currency you should change at home or at the foreign airport (do you still remember "traveler checks"?) - today you can pay with your credit card(s) in many places or withdraw cash at ATM machines all over the world.

Yes, you have to be conscious about the various bank and exchange fees and be aware of the fee differences between the various cards.

But, even if you are, you'll still want to read about our recent experience in Seville, Spain. Here is our story:
Beware of ATM Withdrawals at Night
Ever since an ATM in Barcelona did not return my card a few years ago, I have been reluctant to withdraw money from a cash machine at night.

At that time, it happened during the day and I just went into the branch office and recovered my card without much of a problem. If one's card is withheld at night, things might get more complicated, especially if you have to explain your problem in a foreign language.
In Seville, as in many cities in Spain and Italy, dinner in a (non-tourist) restaurant typically starts after 8 PM. As we were returning from a very pleasant dinner out, we walked by a Unicaja ATM and replenishing my depleted funds seemed appropriate.

Feeling good and confident, I disregarded my usual concerns and went ahead with a withdrawal. I chose the English language option at the machine to avoid any mistakes and everything seemed to go along fine.

A prompt on the screen instructed me to take the cash. I waited patiently for a moment, when suddenly another screen came up: "For technical reasons it is not possible to provide you with the cash requeted [sic]."

Well, this seemed strange, but technical malfunctions happen. I did not see a phone or intercom to report the error right away and took my card when it was ejected.

I also waited for and observed the next machine customer (see picture above) as he completed his transaction, apparently without a problem (and fortunately without "my" cash!)
Check your Bank or Credit Card Account
However, two days later, when I checked my bank account, I saw to my surprise, that 505 euros had indeed been withdrawn (500 euros plus a 5 euro transaction fee).

I returned to the ATM, which is located at one of Unicaja's branches in Calle Sierpes, and reported the problem to the customer service representative at the bank. She summoned others for help, but none of the branch employees' English was better than our Spanish, so we had to explain the problem in Spanish.

After checking the bank's accounts and verifying my credentials, passport and credit card, the manager agreed that it was indeed the bank's problem. (As this happened two days after the initial withdrawal, we were somehow surprised that they had not discovered this issue earlier.) I signed and received a transfer notice of 500 euros to be put back to my account and assumed that the money would show up in my account within a few days.
The Story Continues
Why did I not just ask for the 500 euros I had been unable to withdraw from the ATM machine? In retrospect, I believe that's what I should have requested. But since I went to another bank to successfully withdraw money from its ATM right after the failed attempt, I did not want any more cash.

I also believed that the deposit back to my account would be done quickly, i.e. within a day or two. (Later I found out that such a request would not have been honored anyways, as credit card/bank rules prohibit it.)

When five days later I still did not see the deposit of the 500 euros in my account, I went back to the branch to inquire. By that time, we had also brushed up on our Spanish banking language and explained our situation again.

However, we were told that there was nothing they could do, as they had already initiated the transfer back to my account. I was told that I should just be patient.
Fool me Twice, Shame on You
Then I thought, now with the branch office open, let's give the machine another try. And when I tried to make another withdrawal, exactly the same happened: The ominous screen - "For technical reasons it is not possible to provide you with the cash requeted [sic]" appeared again.

This time, however, we not only took photos of several of the screens, but also reported the problem right away. As the ATM customer before us apparently also had an issue and was making a complaint, it was clear that the bank was aware of the problem. Our second failed transaction was immediately canceled.
Patience Wearing Thin
A few more days have passed and now it's been more than ten days since my first unhappy withdrawal experience.
I've sent several e-mails and we have made several trips to the branch office, but the funds still haven't not shown up in my bank account.

In our latest foray into the Unicaja bank's branch office, we asked for the branch director. His explanation was more differentiated and he reiterated that Unicaja ("Un banco pequeño, pero un buen banco!" - A small, but a good bank") indeed had made the transfer back to the "Maestro" intermediary (Master Card in Europe), but Maestro, apparently, had not effected the transfer back to my bank yet.

And credit card/bank rules (supposedly!) don't allow cash payments by the bank for failed ATM transactions. Patience again. While Unicaja's branch staff were very nice and tried to be helpful, we were really surprised that none of the staff spoke any English, French or German, the languages we are still more fluent in than Spanish.

However, it gave us a great opportunity to practice our Spanish and apply the banking terms we had looked up and tried to memorize.
ATM Lessons Learned

1. Avoid any cash withdrawals at night, especially in a foreign country.
2. Check whether the machine has a phone or intercom with which you can report a problem right away.
3. Only use ATMs during during working hours that are part of a bank or branch office. (In Seville typical bank working hours are from 8:00 AM to 2:30 PM)
4. Obtain a written confirmation of the deposit back to your credit card and inquire with your credit card company/bank that the deposit was made.
5. Learn some key banking/financial terms in the foreign language.
English not Spoken Everywhere
While our experience with Unicaja was somewhat annoying, it also gave us an opportunity to brush up on our financial language and practice our Spanish. The experience with the branch personnel and its manager also confirmed what we had experienced ourselves and heard from others here in Seville: English is not the preferred foreign language in southern Spain.

As I've mentioned, no one at the bank spoke English. As a matter of fact, the bank director said proudly: "No hablo inglés, sólo hablo español." (I don't speak English, I only speak Spanish.)

Also, to our surprise, our Spanish tutor, a professor at a local university, speaks no English either, and we have heard from others that French and German have come into favor in recent years as foreign languages learned and spoken in southern Spain.
Update - The end of the Story
On April 9, 2015, nearly exactly a month after the 500 Euros disappeared from my bank account, I finally received a deposit of Euro 500.00 back to my account. I am still not sure who is holding the Fee of 5 Euros, Unicaja, Maestro, or my bank, but I am sure I will find out in time.

While Unicaja maintained that there was nothing they could do - they had returned the 500 Euros to Maestro - I suspect that my formal complaint to the bank that had issued the debit card and the bank's follow-up finally gave me my money back. It is still surprising to me, however, how long it took Maestro to return the funds that they had received two days after the failed transaction.