Posted on by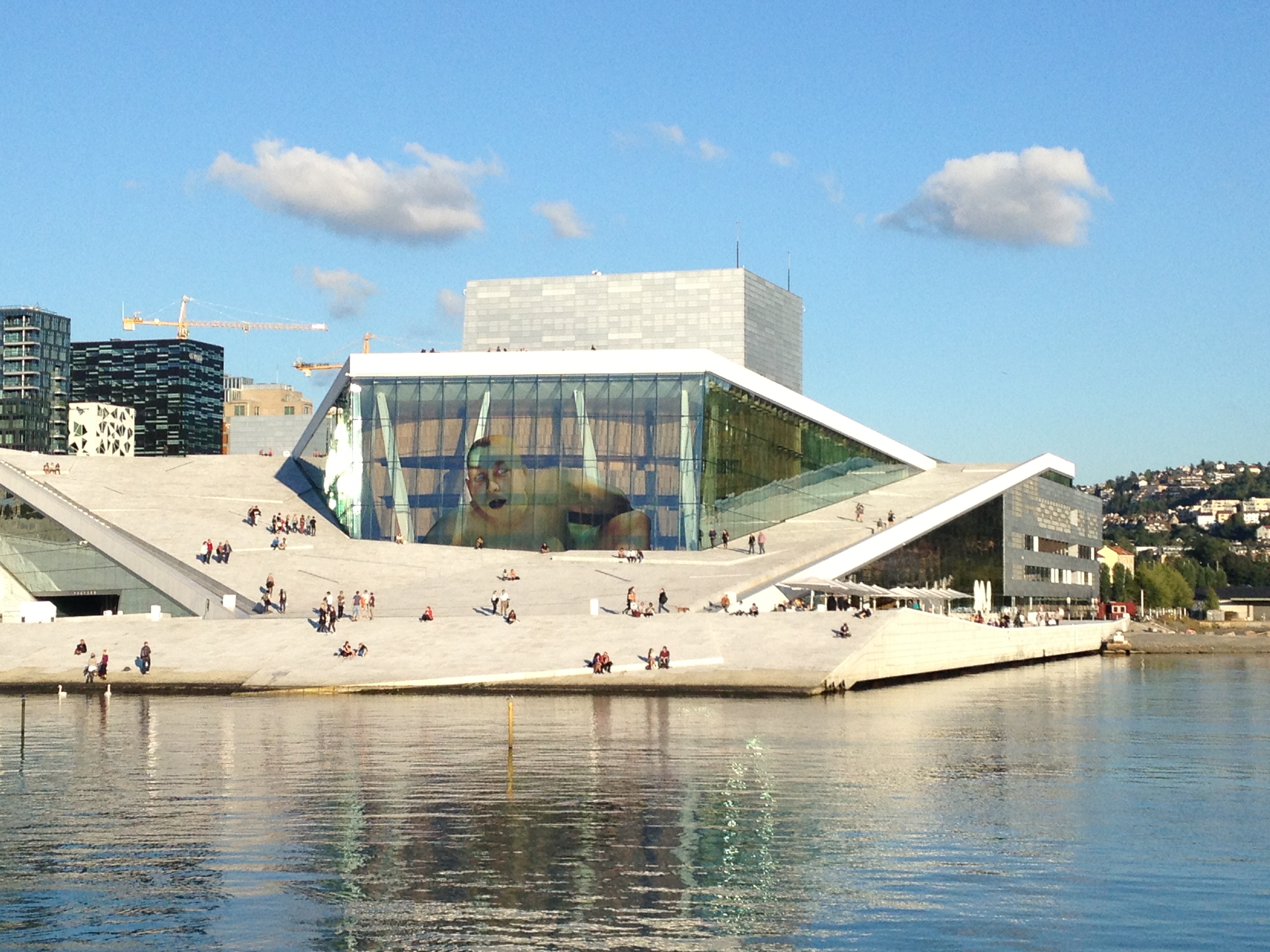 Arriving at one of the world's great cities is always a thrill. If, in addition, you've made some effort to learn some basics of the local language, you'll have added another dimension to your experience.

And while you're exploring the city, you can continue to engage with its language. Here are 4 easy ways to keep on learning. I tried these out while recently visiting Oslo, Norway's capital. (image of Oslo's stunning new opera)
1. DECODING SIGNS WHILE EXPLORING ON FOOT
Oslo's Karl Johans gate (right) is a pedestrian way that sweeps through the city from Sentralstasjon (central station) to Slottet (the royal palace). It is lined by cafés, shops, office buildings, and is always bustling with activity.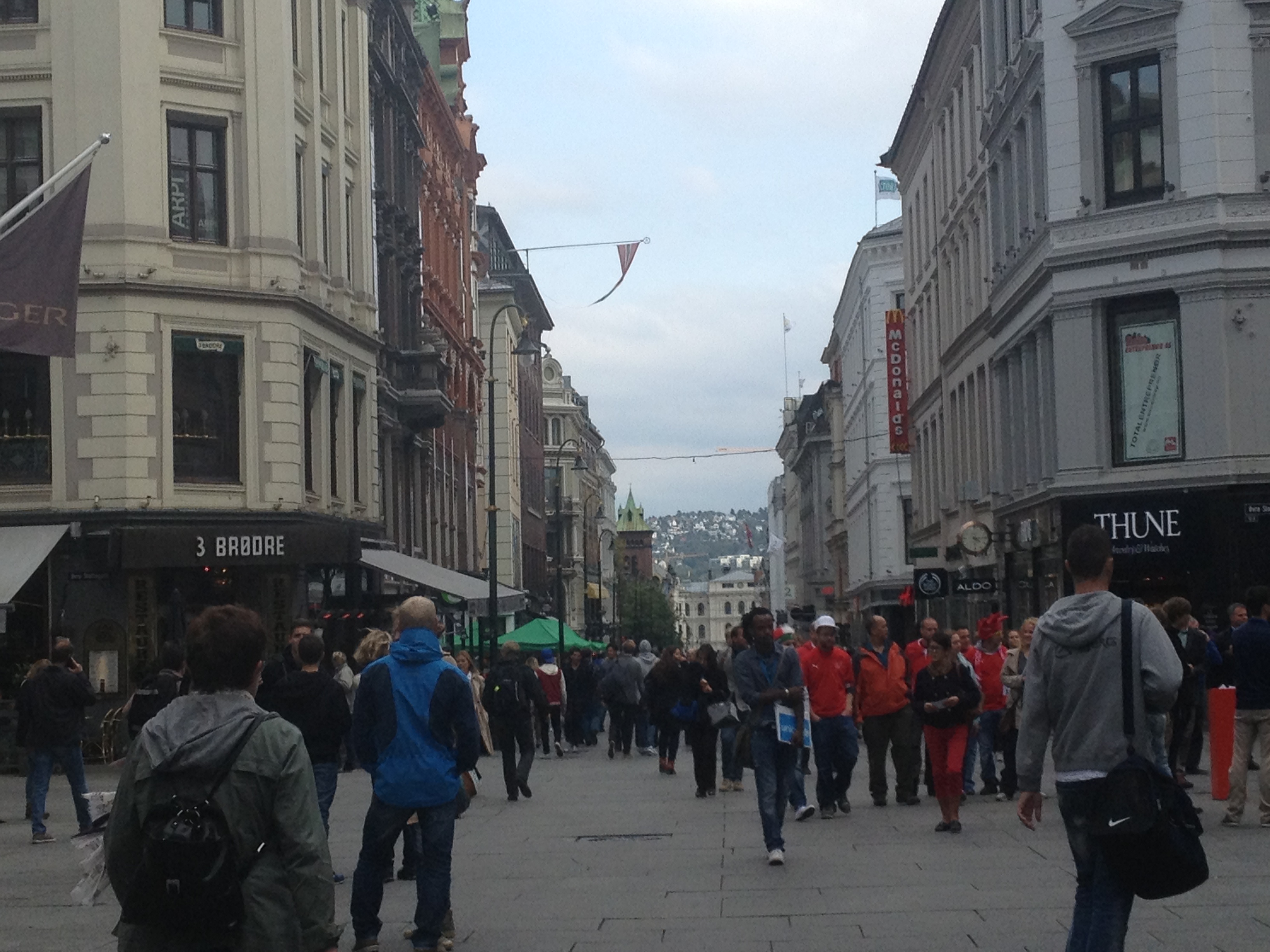 As you stroll along this street, you meet a constant stream of visual language: signs on buildings and apartments; signs regulating car and bicycle traffic; advertising signs in stores, etc.

Some of these are translated into English, but many are not. It's fun to guess the meaning of these signs, and armed with a small dictionary, you can decipher many of them.
Since many words and phrases pop up in various locations, you'll start to recognize and learn them.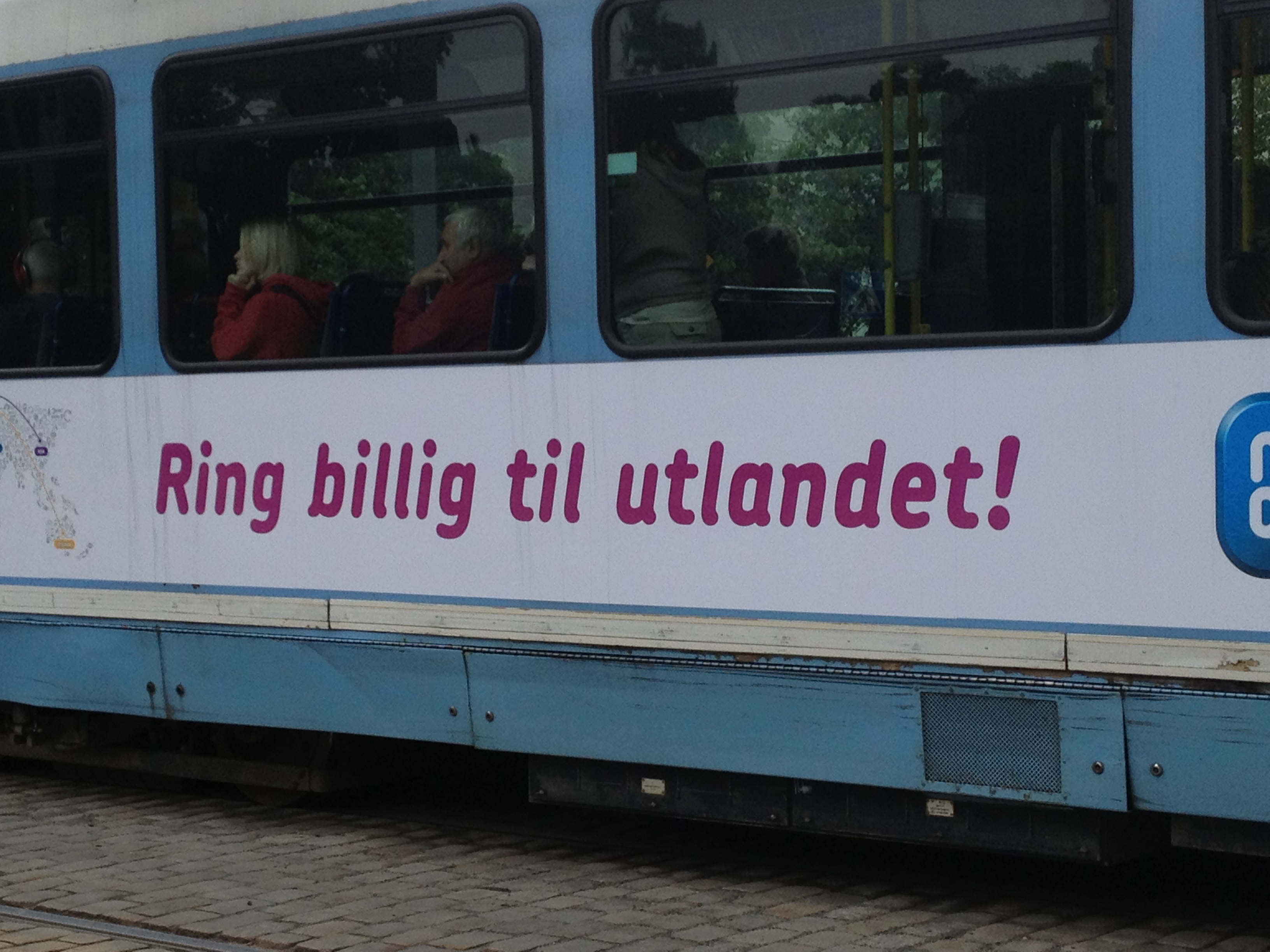 For understanding Norwegian, knowing another Germanic language (such as English, Dutch, or German) is helpful.
An ad on a tram (right) reads: "ring billig til utlandet"
"ring" (American: call);
"billig" (same word in German: cheap),
"til" (to/until);
"utlandet" (close to German "Ausland" or Dutch "buitenland," meaning "abroad.")
So we figured that the cell phone company advertised: "Cheap calls abroad".

Sometimes though, you have to chuckle at the shift in meaning.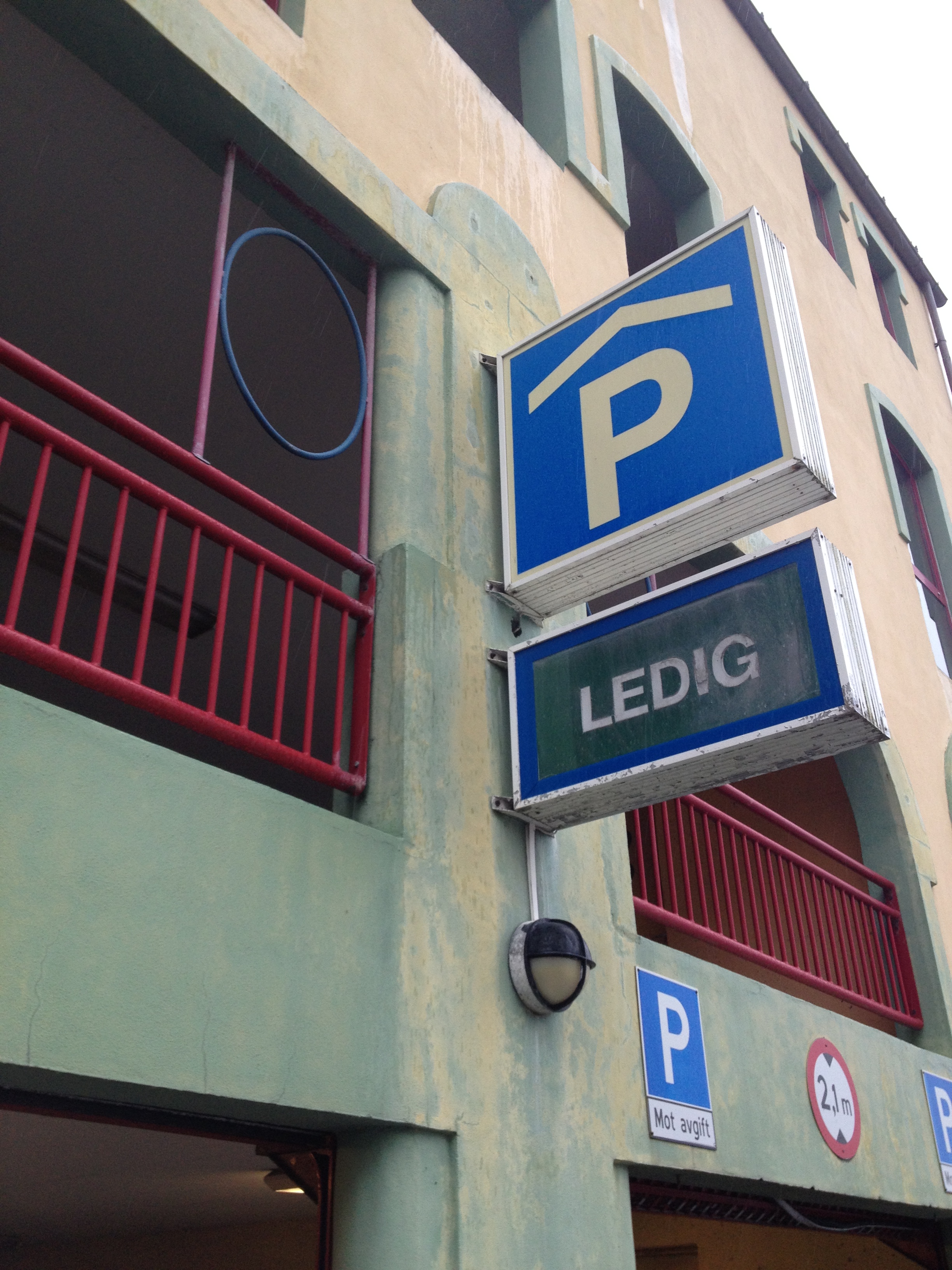 For example, a sign at an Oslo Parking garage (right) reads "LEDIG" (Vacant),
That's harder to figure out: the German word "ledig" means "unmarried", and the Dutch word "leeg" means "empty".
Or, you have to be beware of out-and-out false friends: Norwegian "barn" means "children" in English.
2. LISTENING TO ANNOUNCEMENTS ON PUBLIC TRANSPORT
Oslo has an excellent network of buses, trams, subways (T-bane), ferries and local trains that take you to practically any point in the city and to many towns in the surrounding county Akershus.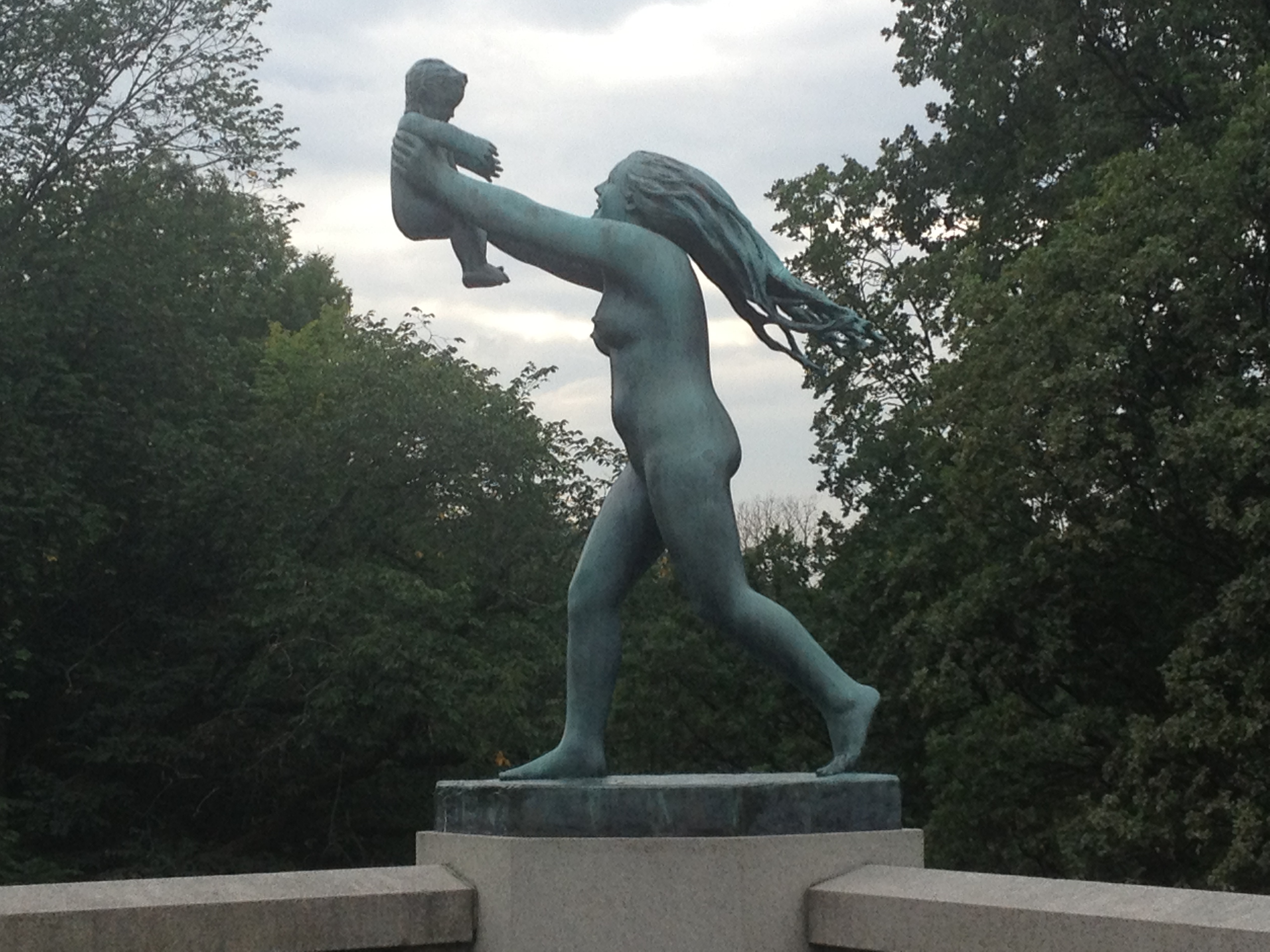 A 7-day all-inclusive pass helped us round out our sightseeing. Just for a start, we took the T-bane to the Holmenkollen hopp (ski jump); the tram to Vigelandsparken, an amazing open-air sculpture park (see a sculpture by Gustav Vigeland, left); and the ferry to Nesoddtangen (a village 4 miles south of Oslo).
Stops on trams, buses, subways, and trains are shown visually, but they are also announced aloud in Norwegian.
For me, this was a fun way to learn the correlation between spelling and pronunciation. Norwegian has many silent letters, plus a few letter combinations that are totally unpredictable for a native English speaker.
Listening to the names of stops, as well as to lengthier general announcements is a good way to get the music of the language into your ear. Moreover, everything is spoken in Norwegian first, and then in English, allowing you to double-check that you've really understood the meaning.
3. READING DUAL-LANGUAGE TEXTS IN MUSEUMS
Oslo offers a host of interesting museums, some housed in spectacular buildings, others tucked away in formerly private apartments.
Each exhibit provides well-constructed, colorful background stories - in Norwegian and English. As you read about the artists, the individual works of art, the history of the city, etc., you can have a language lesson to boot. From dual-language plaques, we learned about Munch's lengthy stays in Berlin and Paris and his bohemian life there (Munch Museum).

We read that Ibsen had lived abroad for 27 years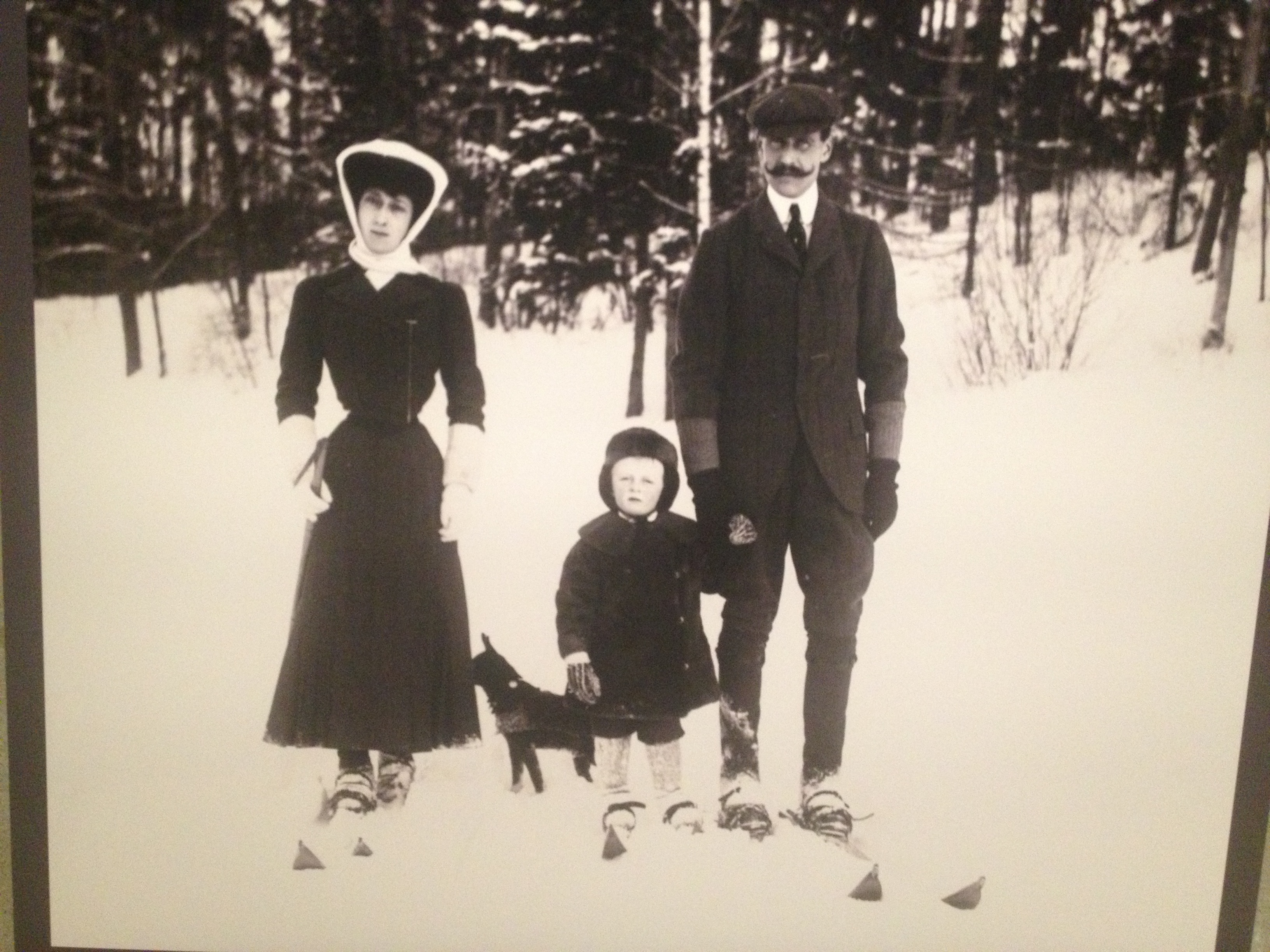 and the reasons why he did his best writing outside of the country (Ibsen Museum).

We discovered that, when in 1905, the Danish Prince Carl and his British wife became King Haakon VII and Queen Maude of Norway (Hollenkollen Museum), they and their children became avid skiers (see the royal family, right)
To find out how a Danish Prince and his English wife become the founders of the current Norwegian Royal House, read our blog post Language Politics).
4. SPEAKING THE LOCAL LANGUAGE
Last but not least, it was fun to try out our practical, phrase-based Norwegian. We are far from fluent, but every time we made a purchase, ordered food or drinks, bought tickets, or asked for directions, we practiced the language we had so far acquired.

Waiters in cafés or restaurant were usually multilingual and when our Norwegian didn't suffice, they joined us in language-switching back and forth between Norwegian, English, German, and sometimes Spanish and Italian.


When you think about it, a city offers a lot of free and fun resources for language learning. You just have to become aware of them and use them as they come up. Keeping a 3"x5" spiral notebook with you to write down any new words or phrases you see or hear, will help you remember and learn.