Posted on by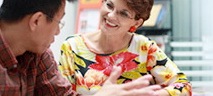 There are many different ways of learning a foreign language and each person has to find the one which suits him or her best. Personal tutoring has many benefits.

Using a personal tutor is a great way to getting a running start or accelerating your learning. If you have never considered this method, then here are 5 of the top benefits to think about.
1. Get Personalized Attention
One of the most obvious benefits of getting a personal tutor is that you get all of his/her attention all of the time. This is hugely important in any subject, but especially when it comes to languages. By dealing with your teacher on a one-on-one basis, you can increase your vocabulary and confidence very quickly. The amount of time you spend speaking is a vital part in the learning process and a group situation simply won't give you the same number of opportunities to practice speaking.
2. Go At Your Own Pace
We all learn at different speeds. When you are in a big classroom, you run the risk of either falling behind the rest of the students or being frustrated at the speed they force you to go at. By using the personal tutoring approach, you can be sure that the pace of the teaching you receive is exactly right for you.
3. Concentrate on Your Weaknesses
No one learns a new language in exactly the same way as anyone else. We all have certain words or grammatical rules which seem to take longer to sink in. A personal tutor, however, can help you overcome your weaknesses by providing you the explanations and tips you need. As your tutor will be talking to you on a regular basis he/she will understand which areas you most need to work on in order to improve.
4. Focus on Your Needs
Another point to bear in mind when deciding how you are going to learn a foreign tongue is that we all have various reasons for learning and therefore not the same needs. You might be planning on moving abroad, need to learn a language for business reasons, or just be looking for an interesting new hobby. Each one of these reasons will lead to different learning needs, and a personal tutor can help you focus on those needs from the start and help you learn exactly what you want.
5. Find the Perfect Tutor
If you are going to get the most from your personal language tutoring then you will need a great tutor. The good news in this respect is that a reputable firm such as Language Trainers will give you access to a range of qualified native speaking teachers. This means that you can find the perfect tutor and learn in the best way possible.
Bio: Ivana Vitali represents Language Trainers. Language Trainers provides individually-tailored language training on a one-on-one or small group basis to busy people who need language skills for business, family and travel needs.