Posted on by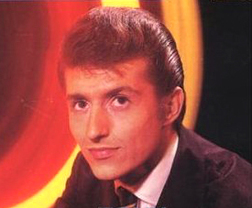 (Updated 8-25-2017) A previous blog post featured a French song as a prime example for improving one's language skills in a fun way. Some readers asked us about Italian and Spanish language learning songs.

As the Italian song we have selected "Quando, quando, quando", an Italian pop song with a bossa nova rhythm.

Alberto Testa wrote the lyrics and Tony Renis (see his picture above), who also wrote the music, performed it first in 1962. Click on Tony's YouTube clip, and the original Italian lyrics you'll find HERE.
Pat Boone, Connie Francis, Michael Bublé et al
What made this song so well known, was the fact that "Quando, Quando, Quando" was retained in many languages, although the lyrics were modified and adapted.

Over the years, many artists performed the song in English, including, among others, Pat Boone, Connie Francis, Engelbert Humperdinck, and Michael Bublé, who included it in his album "It's Time" in 2005.

There are well-known versions in German, French, Spanish, and in many other languages, and you can find YouTube clips of quite a few. Click on Michael Bublé's English version here.
Typical Italian
What makes this song a good candidate for language learning - apart from the "ear-worm" refrain – are a few typical Italian constructions and the future forms of several verbs:
• dimmi – (tell me!) a word combination of two words "di" (tell!, say!) and "mi" (me), which you may hear quite often in Italy, e.g. in "Dimmi tutto"...
• dirmi – (to tell me) similar as above, but instead of the imperative the infinitive.
• baciandomi – (while kissing me), again a word combination of "baciando" (a gerund of baciare, for those who care) and "mi".
• the future tense – e.g. "tu verrai" (you'll come), "tu mi bacerai" (you'll kiss me), "attenderò" (I'll wait), "vedrò" (I'll see), "dirai" (you'll say), "lasceremo" (we'll let go), etc.
And I'll bet, once you hear this song a few times and understand the Italian lyrics, certain expressions will stay with you.

And even if you don't care for "Dimmi quando...", but are trying to learn Italian - find Italian songs you like and use the web to help you translate them. You'll enjoy them even more when you can sing and understand them!
Postscript: I recently came a across the post of a young Polyglot-in-the making. She suggests four simple steps for learning with songs to improve both your listening and speaking (maybe even singing!) skills.
1. Listen! 2. Sing! 3. Translate! 4. Retranslate!
It's fun AND effective and it works for all languages!