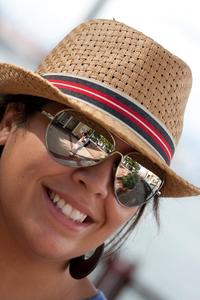 Spanish Language Game: Su prima joven
Spanish Language Game "Su prima joven" (His young cousin)
Play this quick online Spanish game and learn and practice 14 Spanish words and phrases in the form of a mini-story.
David stays a few days in Barcelona at his aunt and uncle's place and spends time with his cousin María.
This brief episode also comes up in our Spanish 1 course, which is made up of a continuous series of mini-stories that tell of David's travels in Spain.
In the Spanish 1 course you learn and practice 750 basic words. (The full course is available for FREE by registering HERE.)
By repeating or anticipating the Spanish OUT LOUD, you practice your pronunciation.
Click on the Spanish sentences to hear them again.
You'll hear the story at the beginning and then again at the end. At that point, try to understand the Spanish without translating.
Words in Spanish Mini-Story Language Game
se queda - s/he stays [quedar]
por unos días mas - for a few more days
él pasea - he strolls [pasear]
por la ciudad - through the city
con su prima joven - with his young cousin (f)
él visita - he visits [visitar]
various museos - several museums
él va conociendo (a) - he gets to know
los amigos de María - María's friends
aprende mucho - s/he learns a lot [aprender]
sobre la historia - about the history
el Parque Güell - well-known park in Barcelona
interesa - it interests
specialmente - especially

Please share us with your friends who also want to learn Spanish, or Italian, German, or French.
More than a Spanish Language Game

If you like our Spanish games, you can practice Spanish - online and completely for Free - with our 36-Scene story "David en España" by just logging in, or registering HERE.
You can find more resources for learning and practicing Spanish on FREELANGUAGE.ORG.
Our FREE Spanish 1 course will let you learn and practice Spanish playfully - with a travel-story of a young man in Spain and easy games.