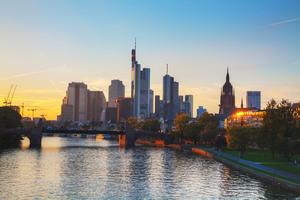 German Language Story Game 2
German Language Story: In the second part of Michael's trip to Germany, (Michaels Reise 2), he visits his aunt and uncle in Frankfurt.
His cousin Julia shows him around the city.
Level: Low Intermediate (B1)
Playing time: 5 minutes

Hear and read Part 2 of Michael's journey in this German Language Game. It contains 130 words and phrases in context.
Practice your pronunciation by repeating every sentence after, or at the same time as the native speaker.
After the story, you can go through flash cards to recall the 10 key verbs below.
10 Key Verbs in Travel Story: Michaels Reise 2
essen - to eat
kommen - to come
zeigen - to show
bringen - to bring, take
schlafen - to sleep
wecken - to awaken
rufen - call
schreiben - to write
gehen - to go
heißen - to be called


On the computer you can see the translation by rolling over a sentence (but not on a phone or tablet).
To practice and recall the individual words and phrases contained in this story, register or log in and go to German 1, Michael in Deutschland.