Posted on by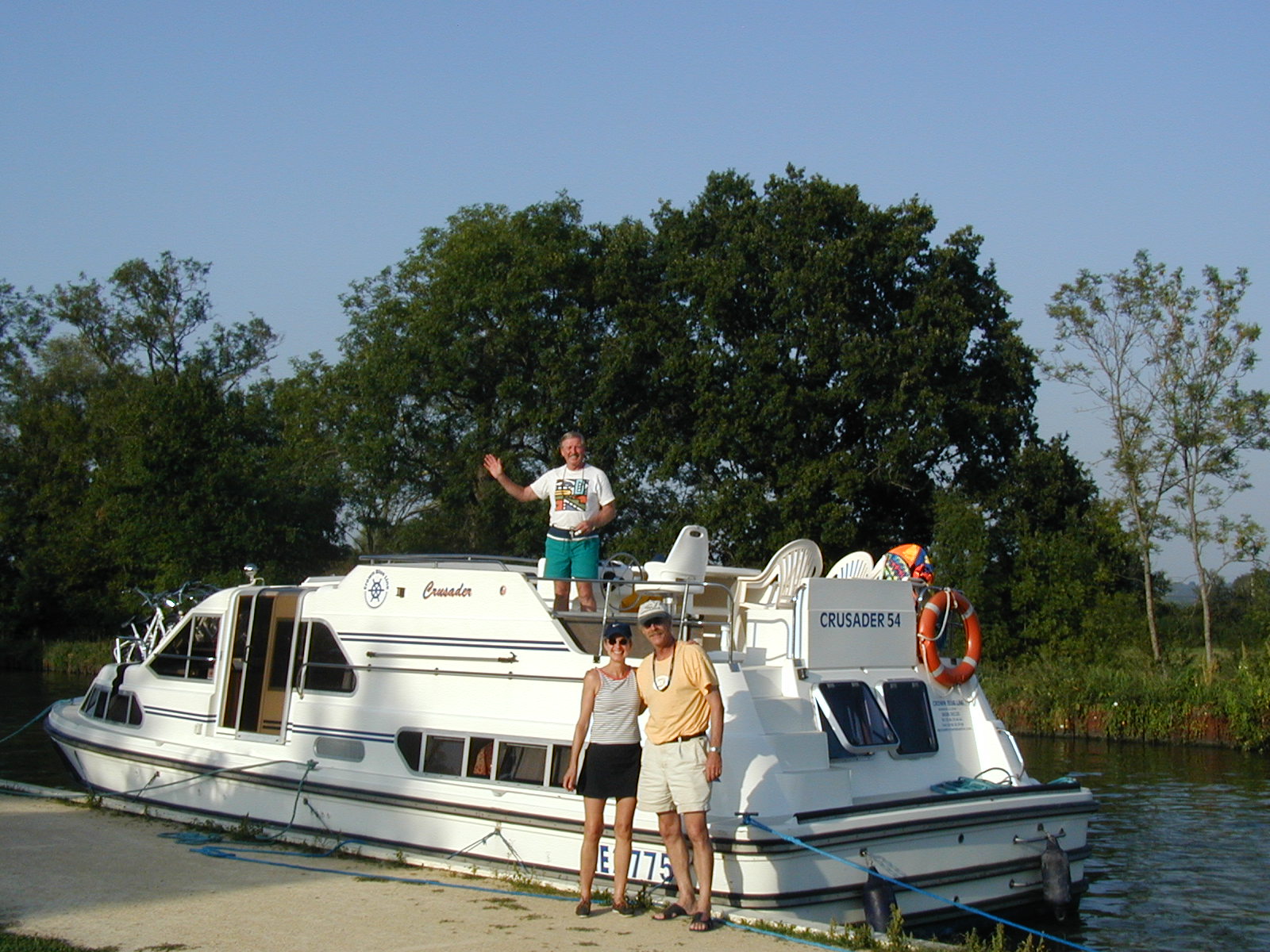 I recently remembered our canal boating trip on the Canal Latéral à la Loire of a few years ago. A friend had just come back from a trip in the Bourgogne in early August and had shared with us the good and the bad. (His experience prompted me to write about Chartering a Canal Boat in Europe on our sister site Lingo-late.)
Chartering a boat on the Canal Latéral à la Loire was our second canal boating experience in France. We had previously cruised the Canal de Nivernais from Corbigny to Joigny. (see Locaboat map below)
This time we were going from Decize to Briare on the Loire, or as we quickly found out, actually on the Canal Latéral à la Loire. On that stretch, the Canal Latéral à la Loire counts 23 locks (écluses) on a length of 132 km (or 82 miles). Our trip took one week.
Choosing a Canal Boat and Route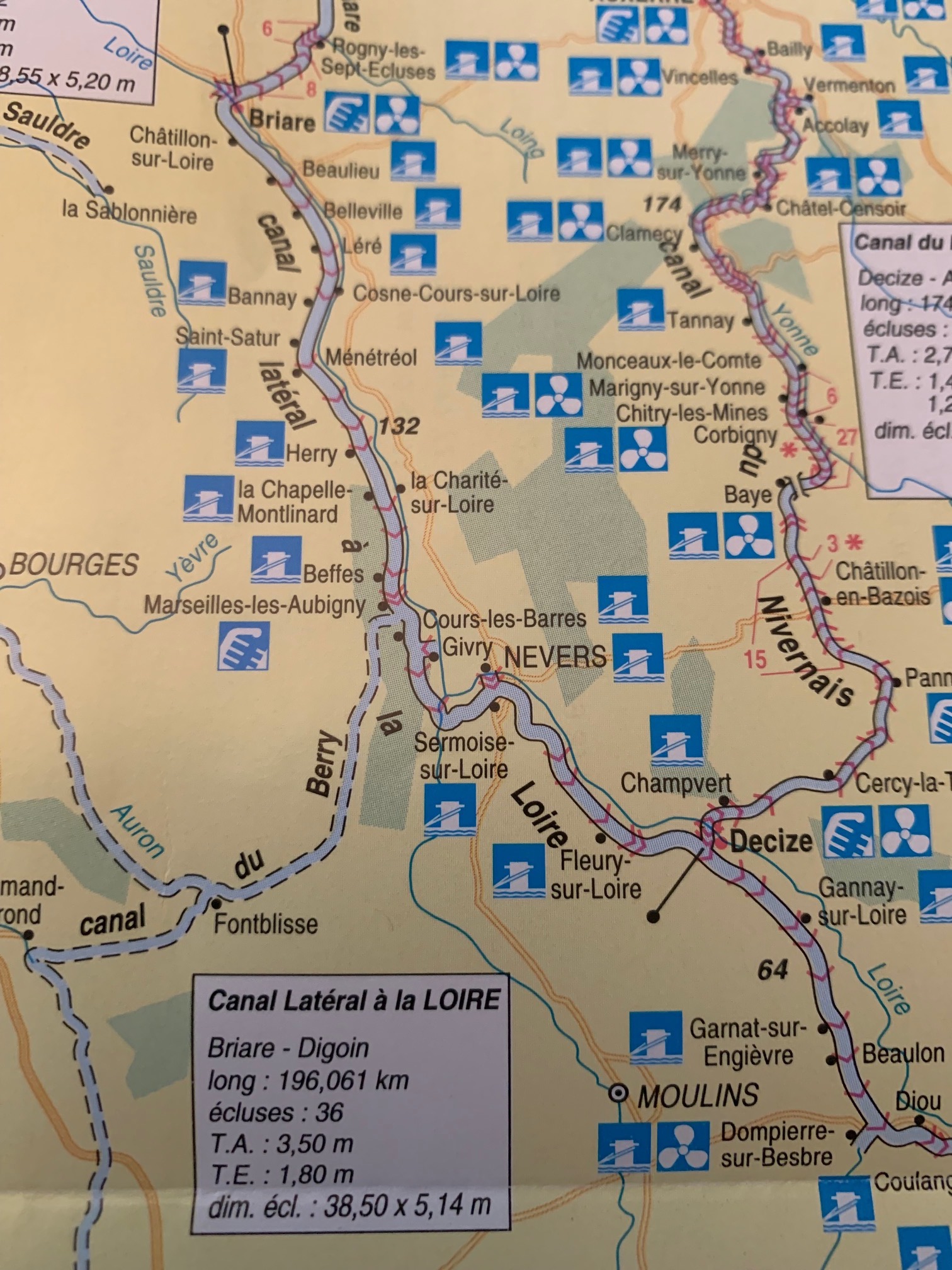 As always, organizing a canal cruise takes a bit of planning.
I like one-way or round-trip cruises, so you get new impressions and vistas every day. As we only had one week, though, we also needed to be aware of the distance and number of locks and bridges that had to open.
I first contacted Locaboat (we'd had a good experience with them before) for a one-way cruise from Dompiere to Briare, or vice versa.
However, for our time period (early September), they did not have a boat with three separate cabins. But we were lucky. For a one-way trip from Decize to Briare the first week of September, we found the perfect 3-cabin boat with Crown Cruise Lines (now part of Le Boat).
Our chart showed us that the "Tirant d'air" (T.A.), or bridge clearance was 3.50m (11.5 ft) and the "Tirant d'eau"(T.E.) or maximum draft was 1.80m (5.9 ft), both no problem for our boat.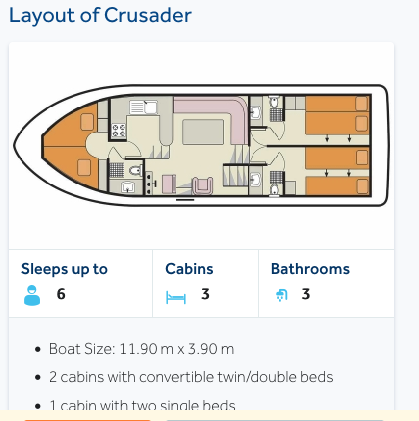 The Crusader-type boat is popular because of its 3 cabin/3 head layout (see picture) and worked really well for us. It had an upper deck and could also accommodate the five bicycles for the five of us.
And, always an issue on one-way trips, the charter company would (for a fee) drive our car to Briare, so we had it available when we arrived.
We knew that the Loire was only navigable for a short stretch from Nantes to Angers. The river however feeds the adjacent Canal Latéral à la Loire which was constructed between 1827 and 1838. It links the Canal de Briare - which connects to the Seine and Paris - to the Canal du Centre.
Indeed, the French waterway network is quite extensive: From the Mediterranean Sea you can reach Le Havre or Dunkirk on the French Atlantic Coast. And, continuing via several canal options to the Rhine, you can even get to the Netherlands and Germany's Baltic coast.
Getting to the Boat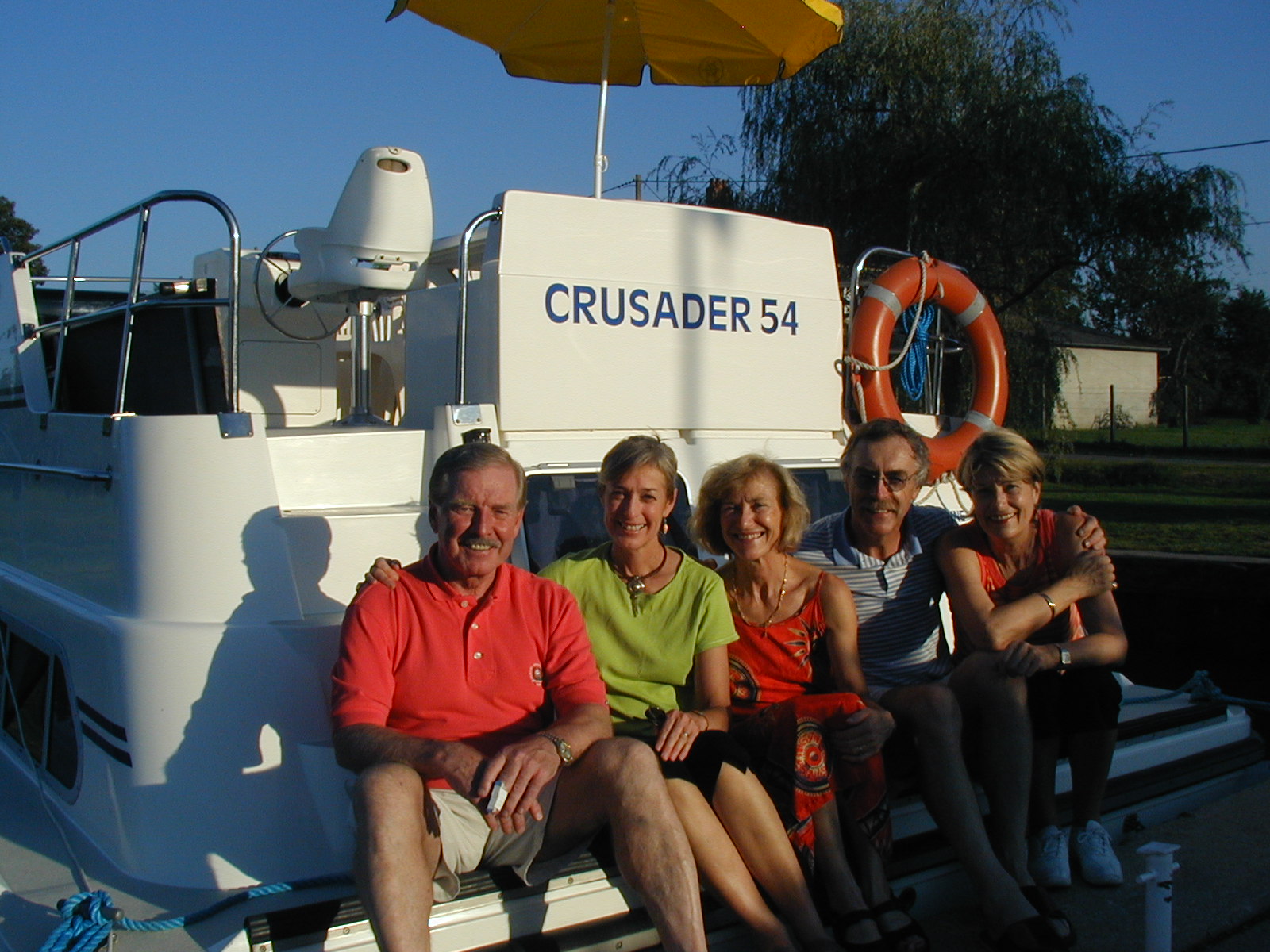 We set off from Fribourg, Switzerland, where Ulrike and I were visiting my sister Ingrid. She had been a regular crew member on many of our sailing trips along the US Coast and the Caribbean, and would join us this time as well.
Our friends Candy and Bill had flown in from Boston a few days earlier. We picked them up at their hotel in Geneva on our way into France on Saturday morning.
By 4 PM we were in Decize. We completed the charter formalities, checked out the Crusader 54, and happily settled into our new home for a week.
We were able to purchase all we needed for next day's breakfast and had a delicious dinner at Brasserie Maxime's terrace near the river.
On previous canal trips, we typically had breakfast and often lunch on the boat. For dinner, we usually found a local restaurant near the canal or river. And as it turned out, this was going to be the case this time as well.
CANAL BOATING WEEK
The first night, we stayed in the Marina, and the next day we were eager to get going.
Sunday
We left the Marina in the morning after breakfast.
In Fleury-sur-Loire, lock #18, the lock-keeper had flowers galore all around the lock. We tied up and then walked up to the village with its Romanesque church (late 11th century) and low old houses. In fact, we were delighted to discover that this middle part of the Loire Valley has many village churches that have survived through the centuries, some even from Romanesque times. Because there was an open door policy for visitors, we were able to look at quite a few of them.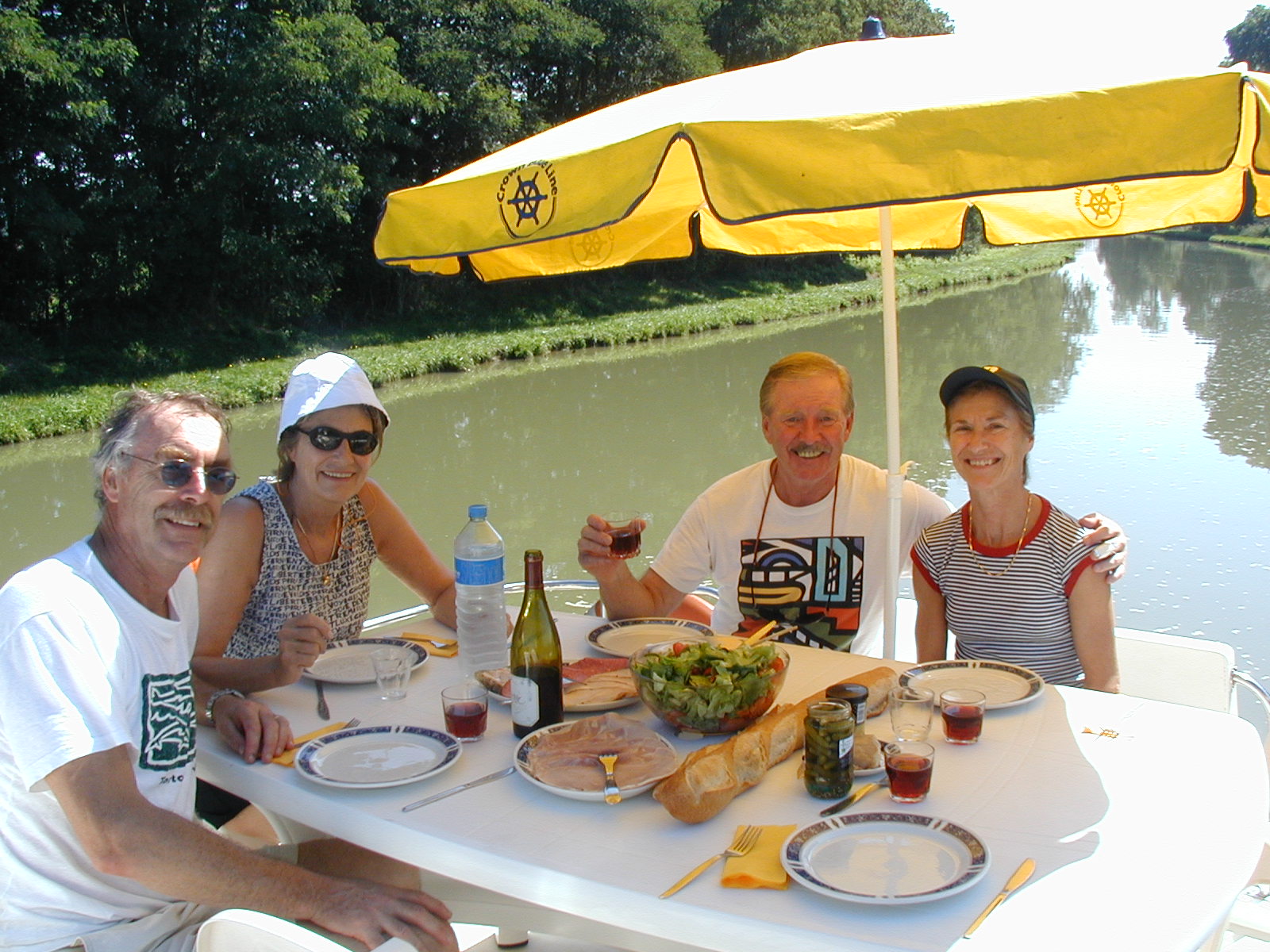 At noon, we enjoyed lunch on the upper sun deck under a beautiful blue sky near Uxeloup, lock #19.
It didn't take us long to learn that lunch hour is sacred for French lock-keepers. Even our chart advised: "Soyez aimables de laisser aux éclusiers le temps de dejeuner entre 12h30 et 13h30; ils sont à leur poste 10h à 13h par jour, selons les saisons." (Be nice and allow lock-keepers time for lunch between 12:30 and 13:30. They are on duty for 10-13 hours, depending on the seasons,)
Around 4 PM, we arrived in Plaigny and tied up in the marina. We took our bikes, rode the 3 miles into Nevers and did some sightseeing. The Cathedral St Cyr-et-St Julitte, bombed during WW2, now has beautiful, contemporary stained-glass windows by Gottfried Honegger.
Monday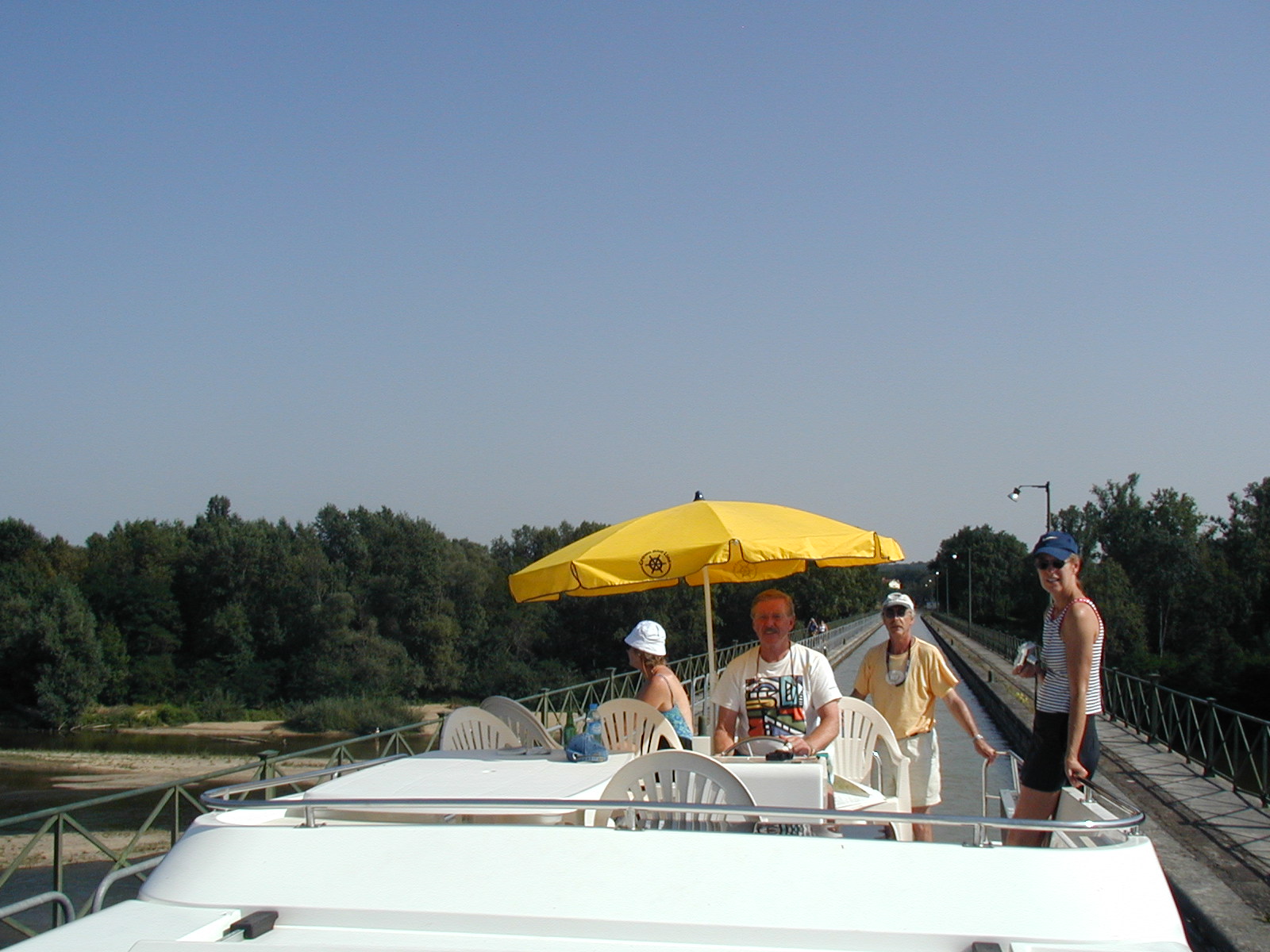 After breakfast in the Café du Canal, we were on the way again. In the afternoon, we crossed the Allier River via the Pont Canal du Guétin, an "aqueduct" or canal bridge. Rather than staying in the little village with its auberge and restaurant near the bridge, we pushed on.
We were certain that we would again find a little restaurant for dinner near the canal. However, this time we struck out. By 19:30, lock closing time, we were still in the middle of nowhere. A few phone calls later, however, the owner of "La Bonne Franquette" came to pick us up in his car, and we had an excellent dinner in the restaurant's pretty courtyard.
Tuesday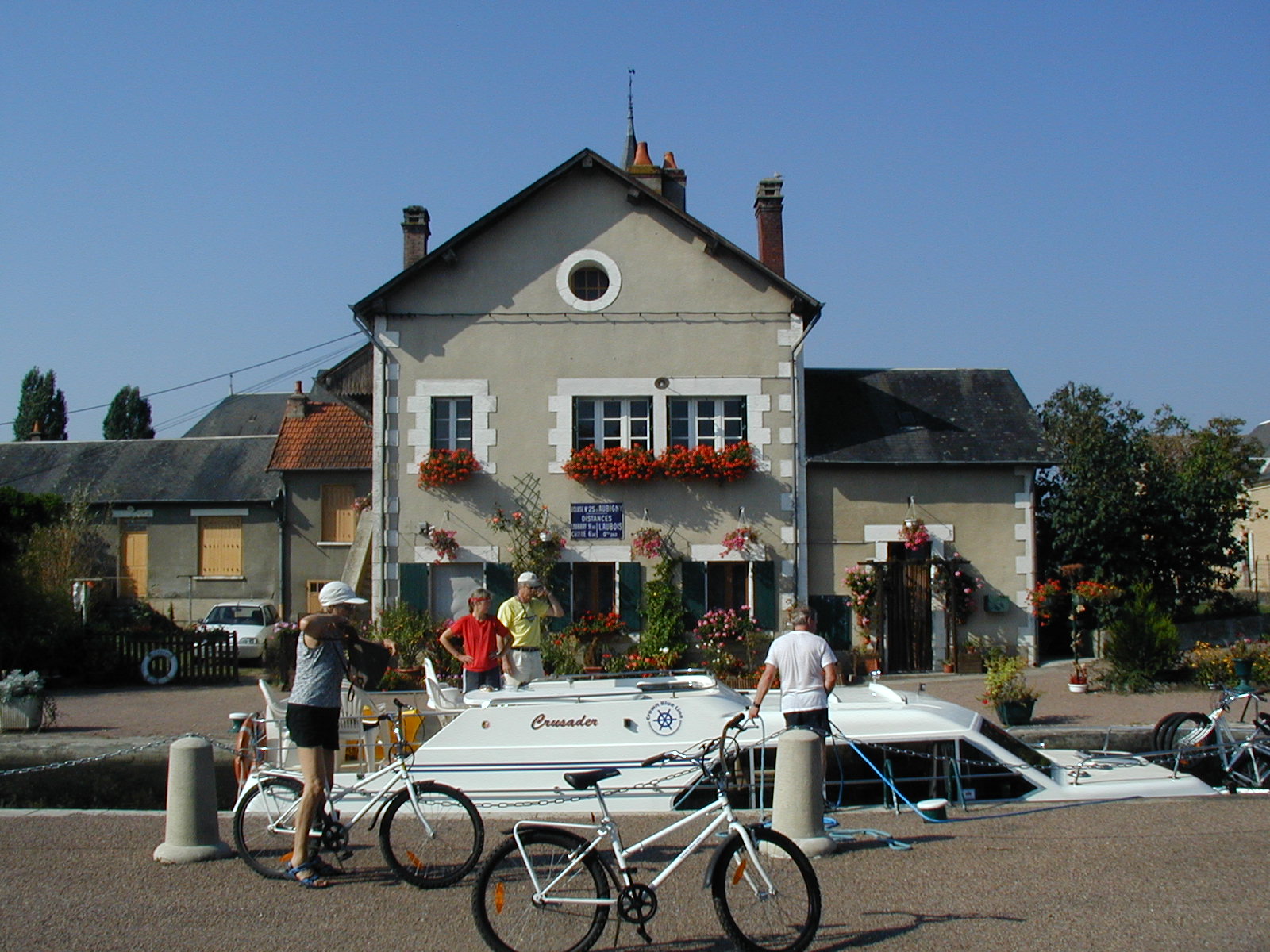 In Marseilles-les-Aubigny after Lock #25, Ulrike, Ingrid and Candy decided to ride along the Canal on their bikes and do some shopping. Bill and I stayed on the barge and continued on.
When they joined us again at Lock #30, in Herry, they had a few fun stories to tell. Their shopping in French had gone great, they had visited a couple of Romanesque churches, and discovered a fine little art exhibition. We all had an excellent dinner at the restaurant L'Atalante near the canal.
Wednesday
The next morning, we left Herry around 9:30 AM and the women again decided to explore the area on their bikes. They bought some charcuterie and baguettes in one of the villages and joined us for lunch in Ménétréol-sous-Sancerre, where we decided to stay overnight.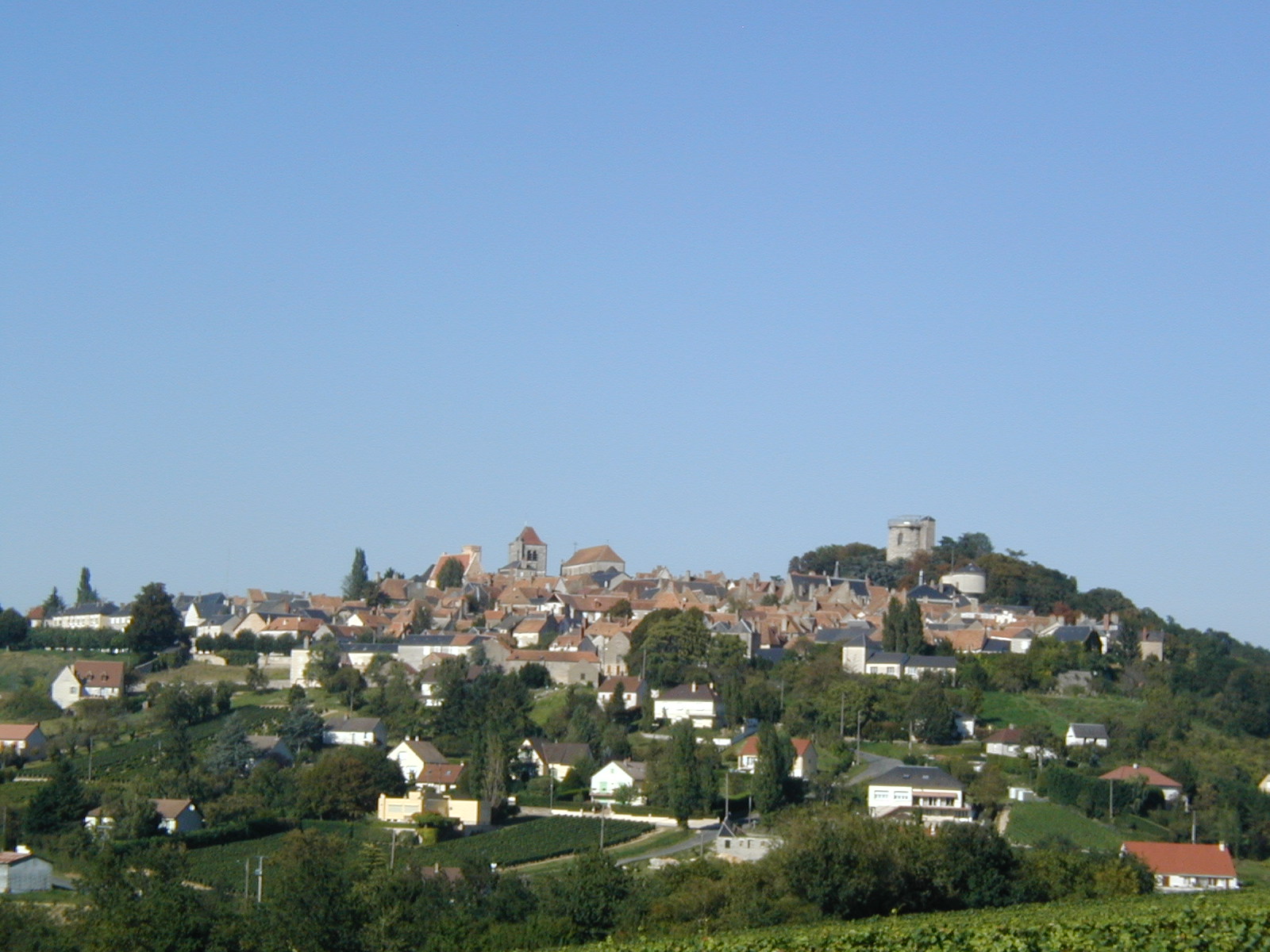 In the afternoon, we visited the Gitton vinyard. Pascal Gitton spoke excellent English, as well as German, Spanish, Bulgarian, etc. He was a real character, had many stories, and showed us the old and new barrels, his bottling plant, etc. We tested four wines, 3 Côtes de Duras and 1 Sancerre, and bought several bottles.
From the Gitton vinyyard we had a great view of Sancerre (see picture above)
At night, we had another wonderful dinner, at Le Floroine right at the Canal. Here we tried "crottin" (goat cheese) in all its stages.
Thursday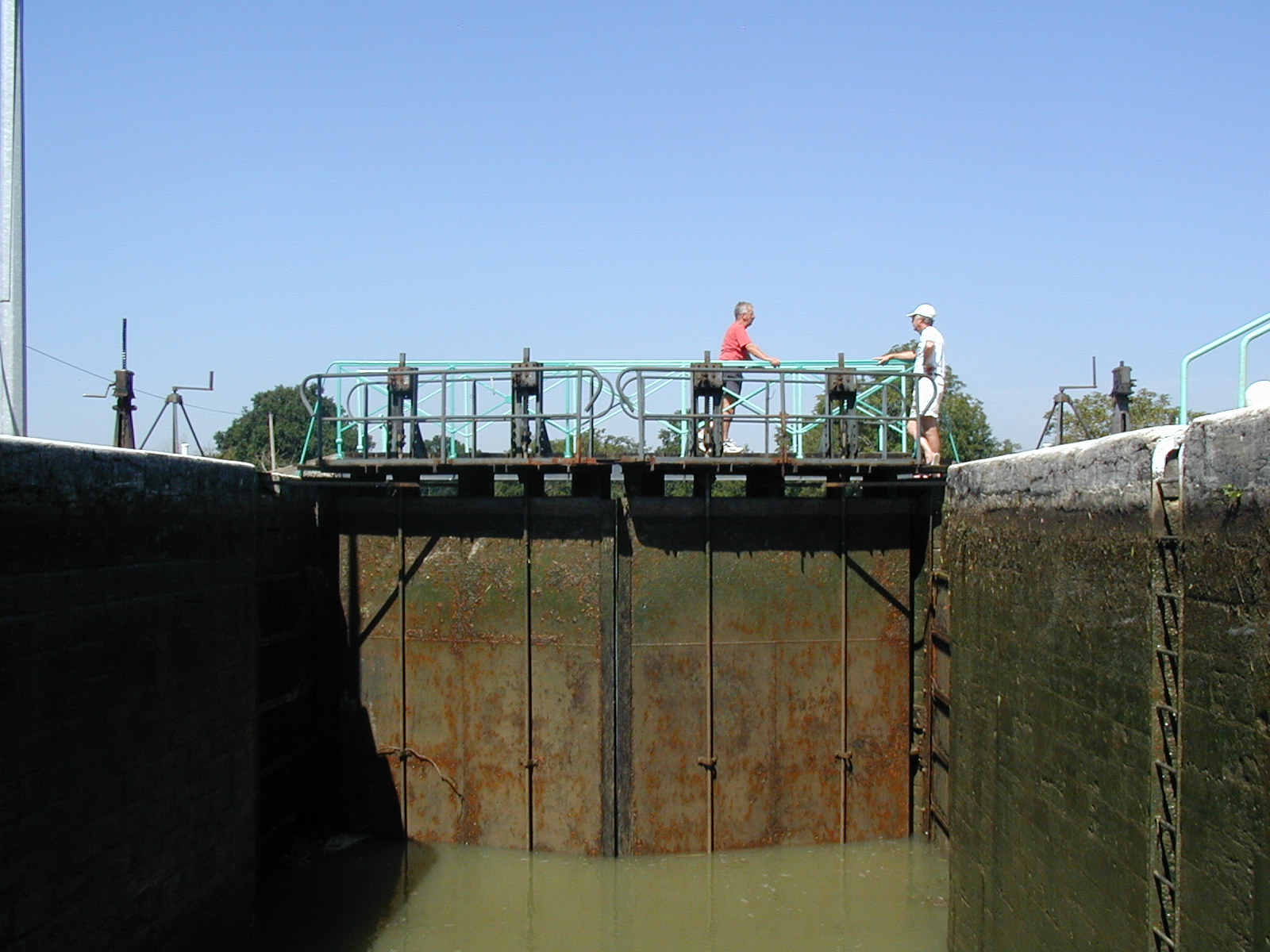 We continued to Bannay, Lock #34, where I had my usual chat with the lock-keeper (see picture.)
Then, in Belleville-sur-Loire, a small farming village, we had lunch while waiting for the lock to open. Across from us, directly at the Loire, we saw the big nuclear Power plant, (reminding us that France derives 70% of its electricity from nuclear power today.)
We stayed the night in Beaulieu-sur-Loire, where we took a tour through l'Église St. Etienne. The church building reflects the evolution of architecture over the centuries: Built in the 11th century, it has a Romanesque nave, a Gothic transept and choir, and a Baroque altarpiece, where later some Neo-Gothic elements were added.
Friday
After breakfast, we biked over to the Château Courcelles Le Roi, now an inn, surrounded by parklands and ponds. Not surprising that it has become a picturesque place for weddings. We then continued on the Canal to Châtillon-sur-Loire, which also got us closer to the Loire River again. There, we strolled around the little town, visited a bookshop, had lunch.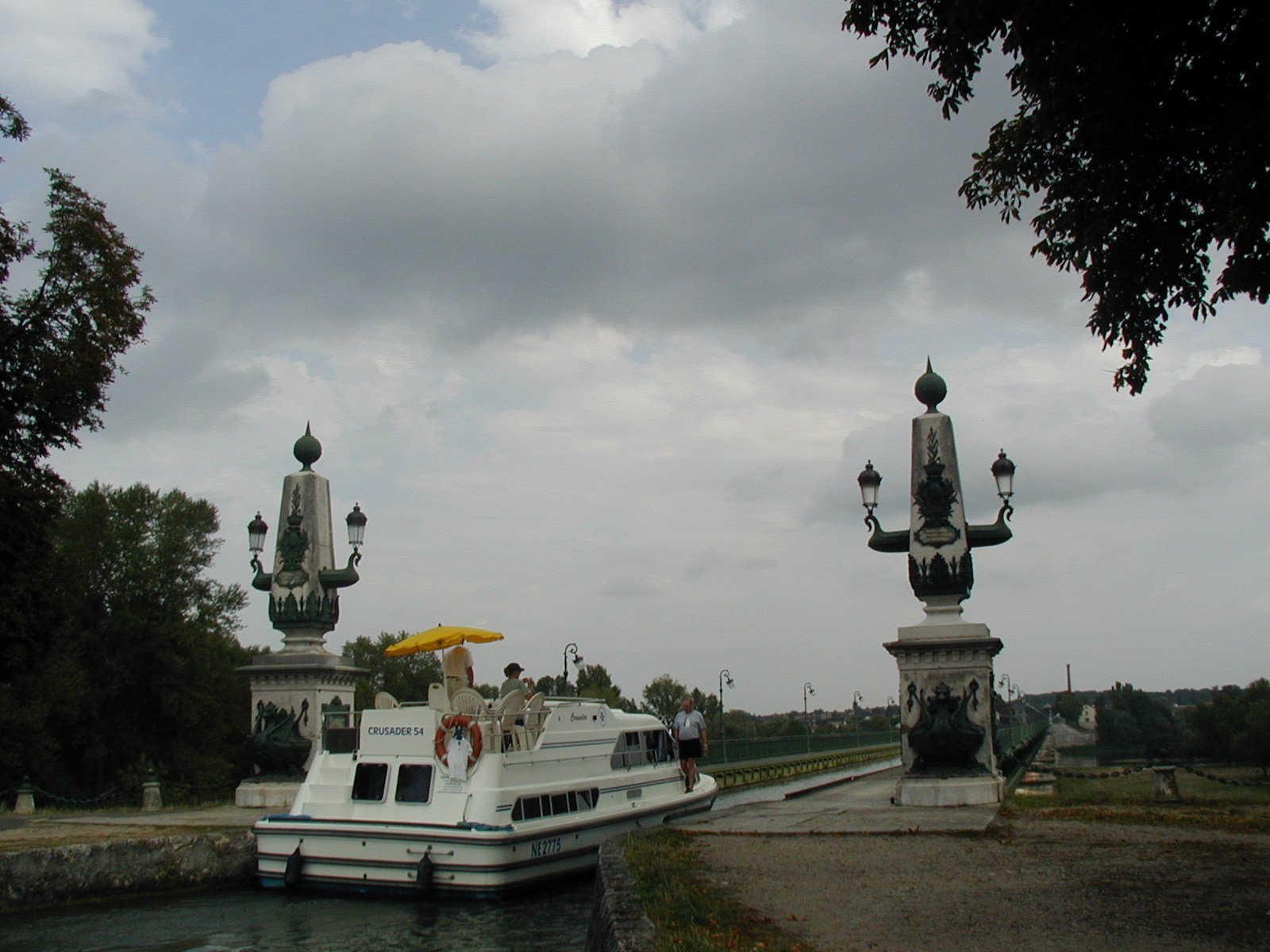 Afterwards, it was on to our last stretch on the Canal to Briare. There were no more locks and we looked forward to crossing the famous Pont de Briare, another aqueduct, or canal bridge, this time indeed crossing the Loire.
Arriving late afternoon in the Marina, we cleaned the boat, walked around town and concluded our very successful canal trip with a dinner at Auberge du Pont Canal.
A wonderful Trip
With good company and friends, we had also been very lucky with the weather: Sunny skies all week with pleasant temperatures at night, no trouble with the boat, and passing through wonderful little villages and landscapes.
The bike rides along the canal through little villages kept the women busy and entertained, while the men enjoyed piloting the boat, talking with the lock-keepers, and enjoying a beverage or two on the sun deck.
We found our car easily and a few hours later we were all back in Switzerland.
And if you are interested in canal boating in the Netherlands - fewer locks, more bridges - check out this post: European Travels 3: Dutch Language and Canal Boating. And for those who might even consider buying a river barge for a life-time adventure on the European waterways, Eurocanals is the website to consult.