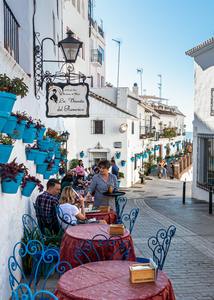 Spanish Language Story: El viaje de David 3a
Spanish Language Story: Part 3a of David's trip to Spain (El viaje de David 3a). (Image by Simon Hermans on unsplash.com)
David is in a café with his cousin María. He's just called the waiter for the check.
The next few says David spends exploring Barcelona. Then his aunt takes him to the train station where he buys a ticket to Grenada.
Hear and read Part 3a of David's trip in Spanish. It contains 75 basic words and phrases.
As you play the story, try to listen without translating the words.
Say each sentence after (or along with) the native speaker to practice its music and rhythm.
10 Key Verbs in Travel Story: El viaje de David 3a
• me gustaría - I would like [gustar]
• pagar - to pay
• trae - he/she brings [traer]
• se marcha - he/she goes away [marcharse]
• tengo - I have [tener]
• si tú quieres - if you want [querer]
• él pasea - he strolls [pasear]
• el parque le interesa - the park interests him [interesar]
• ella lleva - she takes
• dice - he/she says
On a desk- or laptop you can roll over the translation (but not on a phone or tablet).
To practice all of the words and phrases of the story for free, register or log in and go to Spanish 1, David en España.